November 13, 2015 - 1:20pm
16-year-old suspect arrested in assault case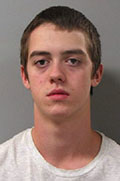 Frank H. McEwan
An arrest has been made in a case involving two people who were assaulted by multiple people in the area of Harvester Avenue and East Main Street in the early morning hours of Oct. 25 after one of them had made a run to 7-Eleven from a Halloween costume party on Swan Street.
Charged with gang assault, 2nd, robbery, 1st, criminal possession of a weapon, 4th, and criminal use of a firearm and petit larceny is 16-year-old Frank H. McEwan, of 3 McKinley Ave., Batavia.
McEwan was arraigned in City Court and ordered held on $25,000 bail.
The alleged assault involved multiple people and there was possibly a handgun displayed. A victim's wallet was stolen. 
One victim was transported to UMMC and later transferred to ECMC with serious injuries. Det. Todd Crosset said the victim is doing medically fine and is recovering.
The Batavian exclusively reported on the alleged assault Oct. 28 and did a follow up two days ago reporting that an apparent lack of cooperation from witnesses was hampering that investigation. That story led to more calls to the police, which provided the break in the case leading to the arrest of McEwan, said Det. Eric Hill.
There remain other suspects at large, and the group of alleged attackers includes individuals described as black and as white.
A gang assault under New York penal code, means an assault perpetrated by three or more people. It does not necessarily mean the individuals involved have any sort of gang affiliation or would comprise a gang in the common use of the term.
The investigation is ongoing and police are still seeking witnesses or information from people who might know anything about the case. Those with information are asked to contact Det. Todd Crossett at (585) 345-6353.
November 13, 2015 - 4:08pm
#2
"kid needs to be off the streets permanently"
The parents should held accountable as it's their job to keep their kids off the streets at night.