December 15, 2017 - 3:16pm
4K camera system installed in operating rooms at UMMC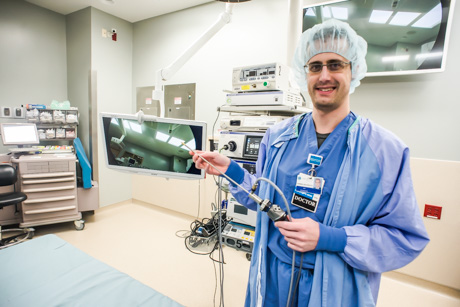 The same technology that is changing how you watch a basketball game or movie on your home television is also making surgery safer and more efficient at United Memorial Medical Center.
Two operating rooms at UMMC have been outfitted with a 4K camera system from Olympus and 4K large-screen monitors from Sony.
"We are one of the few hospitals in the region who has it," said Dr. Andrea Zucchiatti, a surgeon at UMMC. "Nobody in Buffalo has it. Nobody in Syracuse has it. Nobody in Albany has it. They have one in Auburn and Golisano Children's Hospital at Strong has it and we have it."
The medical camera is an improvement over previous high-definition systems not only because of the higher and more detailed resolution but also because more light can get in through the lens, allowing for brighter exposures in dimly lit areas of a human body.
Zucchiatti said the technology allows surgery to be performed faster -- the patient is under sedation and in the operating room for less time -- and incisions can be smaller.
"We can perform safer and more efficient surgeries," Zucchiatti said.