July 19, 2015 - 1:10pm
A father loses his best friend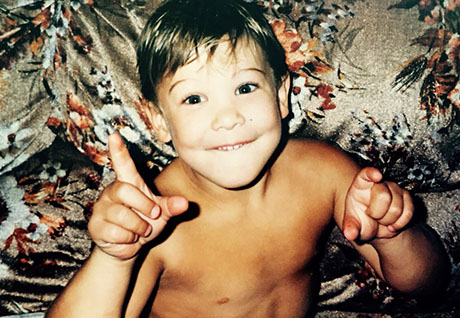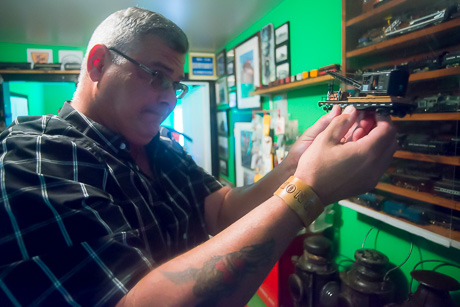 Pat Mruczek looked forward to the day all good fathers dream about, when their boys enter the adult world and learn about adult life, start families, gain a new perspective on what it means to be a father, and eventually, care for them in their old age, as they cared for their sons as babies.
Pat Mruczek will never see those days with his son, Nicholas Mruczek.
Nicholas, 20, and a 2012 graduate of Alexander High School, was shot and killed Wednesday at his apartment in North Coventry Township, Pa. He died the next day.
"Sometimes it doesn't seem real," Pat said. "It seems like a bad dream. I just want it to end. I kept thinking he's going to call me at night and tell me, 'Dad, it's all right. I'm here.' ... I know he's not."
Spread out on the kitchen table were pictures of Nick, a smiling boy, a boy dressed as a shepherd for a school play at St. Joe's, his senior pictures in his green Trojans football jersey, holding up a big cheeseburger at the former Jackson Street Grill. Pat, a big man with close-cropped hair befitting a former Army Ranger and corrections officer at Attica, wept some as he pulled pictures from a photo album. "I'm sorry," he said repeatedly as he struggled to hold back the tears.
Then he would remember something about Nick, tell the story, smile and laugh even as moisture glistened around his eyes.
"Sometimes he'd come home and fall asleep on the couch and then I'd put the bear up to his face, like the bear was giving him a kiss and then I'd take pictures on the phone," Pat said as he laughed through the memory. "Sometimes, really early in the morning, and he was sleeping, I would go in there and I used to wake him up. 'Nick, Nick, you gotta get up. You gotta get up.' 'What? What?' 'I'm going to make pancakes,' I told him."
All good fathers love their sons. Nick and Pat called each other, "my best friend."
They fished together, built model trains together, played sports together, worked on cars and tractors together and shared their hopes and fears the way best friends do.  Until Nick went away to school, to study mechanics at Universal Technical Institute in Exton, Pa., Pat and Nick were practically inseparable, and even after he went away, Nick called home every night.
"He would just tell how his day went," Pat said. "He would tell me his problems and we talked about how to solve them. I always told him, 'no matter what we'll work it out together.' We always have. Always have. Right from the beginning. I told him, 'Daddy is always here to protect you. I'll be here, don't worry about it.'"
Nicholas M. Mruczek was born Nov. 26, 1994, in Batavia, the son of Dawn Hinze (now Warner) and Pat Mruczek. He has an older brother, Justin, who at 24 married just a week ago. Nick lived much of his life on Old Creek Road with Pat and Jeanette, whom he called mother, and sister Marissa, now 11.
He took to athletics early and started competing in youth football -- with Pat as one of his coaches -- at age 7.
"We could always tell where Nicholas was on the field because he was the only one who had calves," Pat said. "The other little kids, they had little thin legs, but Nicholas always had these tree-trunk legs so you could always pick Nicholas out no matter where he was."
He loved football, and might have pursued the sport in college, except for a knee injury. He excelled in track and field as a discus thrower and shot putter.
Action was always part of his life, from riding ATVs in the summer and snowmobiles in the winter, to playing Call of Duty with friends on his PlayStation III. Pat describes a boy who just loved life.
"He had a great sense of humor and he had this shitty little grin," Pat said. "His dimples looked like two baby's butt cheeks when he laughed. He gave this little shitty grin. Even when he did something wrong, and he knew he did something wrong, he was hiding something, he would give me that grin and you'd try not to yell at the kid. He would smile with those dimples and it was hard to get mad at him."
Nick also loved to eat, making him a good match for Pat, who loves to cook. In the Mruczek country-style kitchen, a half dozen cast iron skillets hang on the wall above the gas stove. An abundant spice rack hangs on a wall next to the sink.
Nearly every morning, Pat made pancakes for Nick and Marissa. Big pancakes that draped off the plate and were brimming with chocolate chips.
He loved those pancakes, Pat said, and he learned all the words, in Italian, to all the songs on a CD of Italian music Pat played while he cooked breakfast.
"He liked Dominic the Donkey," Pat said. "He loved that one, and Little Pepino the Italian Mouse. He liked Dean Martin."
When Nick was seven and the family was newly settled into the Old Creek Road house, Nick found a hive of bees and was being attacked. Pat ran out and scooped him up in his big arms and wrapped his body around his little boy. CORRECTION: Nick was not living with is father at the time of this incident, as the sentence implies. He was on a visitation.
"I took him around the house and kept getting stung," Pat said. "I kept getting stung he kept yelling, 'Daddy, Daddy,' and I had him with me and I told him, 'It's all right. Don't worry about it.' I said, 'I'll always be here for you. I won't let anything happen to you.' " 
As he grew older, Pat would take Nick out to the barn to work on the family tractor or their cars and small engines. He quickly developed a love for taking engines apart and fixing them.
"The first time he changed oil, he got his hands dirty and he thought that was great," Pat said. "He came in and his hands were all oily and he was a mechanic then."
Nick took mechanics classes and BOCES and did well. When he realized he wouldn't be able to play football in college, he was casting about for what to do with his life. Pat asked him to reflect on what he really enjoyed in school and Nick's mind raced back to those BOCES classes. He decided to enroll at UTI where he could study gas and diesel motors with the hope of returning home to work in a local garage, or perhaps at the Chevrolet dealership (he was a Chevy fan), or he could move to Texas, where he has an uncle, and be a diesel mechanic on oil rigs. He also dreamed of working in NASCAR.
"I always told him his told world was in front of him," Pat said. "He could repair gas engines. He could repair diesel. He could go anywhere he wanted. He wouldn't have any trouble finding a job. He just needed to get good grades. That was most important."
Nick struggled at first at UTI. He hadn't been a great student in public school.
"His study habits were lacking and I told him if you listened to mom and dad while you were in school you would have better study habits," Pat said. "He starts laughing. So we explained to him how to study. We told him, make up a rhyme sometimes. Put something you're doing into a rhyme and you will remember it a little bit better. That's how he would do it. He would make up a little rhyme to remember some of his classes. Then his grades shot up."
In eight months, Nick would have graduated from UTI. 
Besides finding a job after he graduated, he also planned to work on his blue Pontiac Trans Am. Pat went this Nick to pick out the car, which unless you love muscle cars, doesn't look like much at this point, but Nick called it his "dream car." Pat said, "It needs a lot of work." "I can do it, Dad. I can do it," Nick said.
Pat got new rear tires for it and Nick drove it to Pennsylvania. The next time he came home, the tires were already bald. Nick just laughed about, Pat said.
In Chester County, Nick took a couple of different jobs while at school.  He worked at McDonald's, but didn't like the early morning hours. Then he got a job at Longhorns Steakhouse and loved the employee discounts. On days he didn't work, he ate Spam and noodles. On days he worked, he feasted. He would tell his dad, "I'm livin' it. I'm livin' it."
"He called me up a few days after (he started), he told me, 'Dad, this best job I've ever had.' I said 'Why's that.' He said, 'because the food's great.' "
Pat tried to provide his boy with all the tools he would need to succeed in life, including politeness and respect for women.
"I always told the boys in football, always open the door for a lady," Pat said. "Always. Always treat a lady like a lady. You don't ever put your hands on a lady. I always told him, if you ever defended a lady, I'd never be mad at you, Nick. Ever. He did. He always opened a door for a lady."
One of the hobbies Nick and Pat enjoyed the most together was building model trains. In the house on Old Creek Road is a small room dedicated to the display of the trains with a small work bench where Pat and Nick could tinker. The would take trips together, such as to Buffalo, where they could watch the trains and take pictures of locomotives they would later try to duplicate with their models. Sometimes they would go to the sandwash in Batavia and sit near the train tracks collecting pictures of the passing trains and talking. They went to the train shows together and when Nick was still young, Pat bought him old engines, boxcars and cabooses. They would fix them up together and they came up with a name for their own train line. The P&N, which had its own color scheme. Pat still has some of those trains.
The train collection may be the first thing to go, Pat said, as he struggles to come up with the money to pay for Nick's funeral.
"I want to make sure he's buried right," Pat said.
The life of Nicholas Mruczek was cut short, according to authorities in Chester County, by a man who was angry that Nick was dating his ex-girlfriend. On Wednesday evening, the suspect called Nick out of his apartment and after a brief verbal exchange, he allegedly shot Nick at close range with a recently purchased and modified sawed-off shotgun. According to authorities, Zachary Ludwig, 22, of King Street, Spring City, Pa., has confessed to the murder. He is in jail pending further legal proceedings.
Nick was home just a few days before his death for his brother Justin's wedding. Before he left, father and son embraced.
"He always called me his best friend," Pat said. "He always came home and told me, 'You're more than just my dad; you're my best friend.' Jason (Nick's roommate) told me what happened at the end, before he passed, he told Jason, 'Tell my dad, I love him.' It's comforting to know he was thinking of me at the very end."
Funeral arrangements are being handled by the Michael S. Tomaszewski Funeral & Cremation Chapel, 4120 W. Main Street Road, Batavia. Calling hours are Tuesday from 3 to 9 p.m., with services Wednesday starting at 9:30 a.m. 
Because of the tremendous financial stress Nick's death has placed on the Mruczek family, Pat's friend Brian Odachowski has set up a GoFundMe page to collect donations. He's looking to raise at least $5,000 and nearly $3,000 has already been donated.
Putting into printed words what Pat Mruczek said during our interview captures only a portion of the important meaning. Here is an MP3 file containing excerpts from the interview.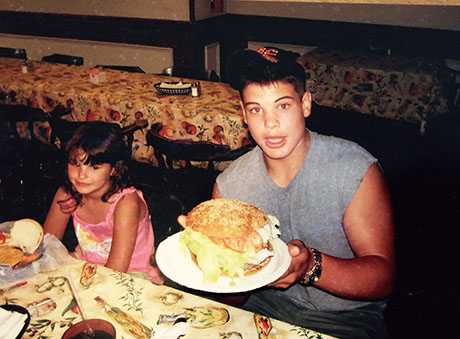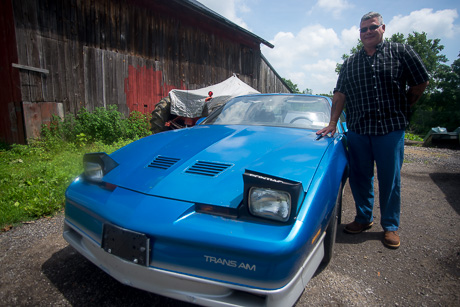 July 19, 2015 - 8:27pm
#5
I've taken down a comment because it was not posted by the person identified as the commenter. It therefore violated our real name policy.
The comment said this article is inaccurate and should be taken down.
There is one person stirring up others and trying to rally them to his cause who doesn't like this story. He doesn't like it that it's only from one perspective.
I made a conscious decision early in the story process to interview only one person for this story, and that is Pat Mruczek. The story is about a special relationship between a father and son. It's not a profile of Nick. If it were, it would be appropriate to interview other people who knew Nick. For this story, I felt and feel it's appropriate to have one person's powerful voice telling a very simple story of a loving relationship. That is no slight to anybody else. It's just a story telling technique.
Using social media and direct messages and e-mail to bully me, try to intimidate me, spread meanspirited statements about me really accomplishes nothing. I stand by the story. I'm not going to change it. I'm not going to take it down.
I have posted in the story one correction regarding the timeline of when the bee incident took place. For all the rhetoric of the story being inaccurate and the multiple messages I've gotten making that claim, that is the only factual inaccuracy anybody has been able to actually articulate.
The article is fair and accurate and it stays as it is.