October 22, 2018 - 6:34pm
After alleged threats, ERT used to take two men into custody on Lewiston Road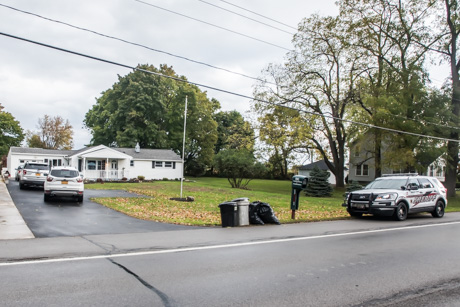 As a matter of precaution, the county's Emergency Response Team was called to a residence on Lewiston Road in the Town of Batavia early this morning to help arrest two men who were accused of threatening another person in the Town of Alabama earlier in the morning.
The incident meant Route 63 was closed to all traffic, and residents in the area were told to shelter in place, from about 5:30 a.m. until 10 a.m.
Taken into custody were Kevin M. Fossum, 52, and Charles L. Beach, 50. Both were charged with aggravated harassment, 2nd, and menacing, 2nd.
Fossum is the primary resident at the house where he was arrested, and Beach is apparently a friend and a roommate.
Fossum is accused of threatening a person over the phone at about 2:30 a.m. and then a short time later showing up at that person's home in Alabama with Beach and making specific threats against that person. That person claims Fossum possessed a firearm during the confrontation.
Since that subject knew Fossum, deputies responded to his residence on Lewiston Road. They approached with caution because of the possible presence of a firearm. 
When deputies did not make contact with the men inside, even though Fossum's car was in the driveway, ERT was dispatched.
Sgt. Andrew Hale said Fossum has become known to deputies recently because of other calls to his residence. He is a retired Army Ranger and a black belt.
"He has serious credentials," Hale said.
Hale said that because of the possibility of a firearm, Fossum's recent behavior, and Fossum's background, ERT and extra officers were called in as a matter of caution, not that an actual threat was made against officers or a more serious immediate conflict.
At some point, while the incident progressed, Fossum, apparently unaware of the police presence, got in his vehicle with an apparent intent to leave the residence. At that point, he was taken into custody.
Officers were unable, however, to make contact with Beach. They were unsure of what Beach was doing inside the house. He could very well have been sleeping, Hale said.
Eventually, officers made contact and Beach exited without incident and was taken into custody.
A search warrant was obtained, and the house, yard, and car were searched. No weapons were recovered.
Neighbors told investigators, Hale said, that Fossum was not known to possess firearms.
Fossum was jailed on $7,500 bail, and bail for Beach was set at $5,000.
The Sheriff's Office was assisted by Batavia PD, ERT, the Orleans County Emergency Response Team, and the State Police.
No injuries were reported in the incident.