April 21, 2017 - 12:42pm
Batavia Downs announces 'Rockin' the Downs' concert series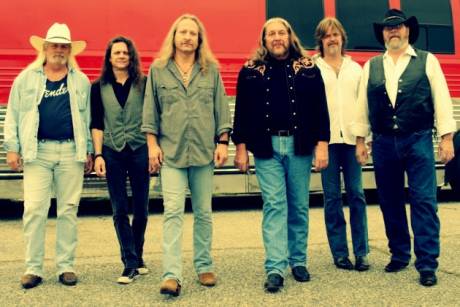 The Marshall Tucker Band
Press release:
Batavia Downs Gaming & Hotel has announced the lineup for this year's Rockin' the Downs concert series, and classic rock and country music fans will be very excited.

Kicking off the series on Sunday, June 4th is country powerhouse Lonestar. Known for merging their country roots with strong melodies and rich vocals, Lonestar has sold over 10 million albums, and achieved 10 #1 country hits including "No News," "Come Crying to Me," and their crossover smash "Amazed," which was also #1 on the Billboard Hot 100. The band's awards include the 2001 CMA Vocal Group of the Year.

Next up, on Friday, June 23rd, is Dennis DeYoung and the Music of Styx. DeYoung was the songwriter of the band Styx's hits like "Come Sail Away," "Babe," "Mr. Roboto," "The Best of Times," " Don't Let it End," "Show Me the Way," and "Lady."

On Friday, June 30th, the money man, Eddie Money, will rock the house with his slew of massive hits that includes "Baby Hold On," "Two Tickets to Paradise," "Think I'm in Love," "Shakin'," "Take Me Home Tonight," and "I Wanna Go Back." Along with having sold more than 28 million records, Money's songs have appeared in dozens of movies and television shows, and have recently been included in hit video games like Grand Theft Auto and Guitar Hero.

Founding member of Foreigner, Lou Gramm will be bringing down the house on Friday, July 7th. A native of nearby Rochester, Gramm has brought his amazing voice to the rock scene for more than 40 years. Gramm performed vocals on such hits as "Hot Blooded," "Feels Like the First Time," "Cold as Ice," "Double Vision," "Dirty White Boy," "Head Games," and "Juke Box Hero." With Gramm at the helm, Foreigner's first eight singles cracked the Billboard Top 20, making them the first band since The Beatles to achieve this.

Southern rockers The Marshall Tucker Band bring their 40 years of hits to Batavia Downs on Friday, July 14th. With hit singles like "Heard it in a Love Song," "Fire on the Mountain," "Can't You See," and "Take the Highway," The Marshall Tucker Band earned seven gold and three platinum albums while they were on the Capricorn Records label. During the '90s, the MTB scored four hit singles on Billboard's country chart and one on Billboard's gospel chart. Their music has also been featured on the soundtracks of movies such as "Smokey and the Bandit," "Blow," "The Pursuit of D.B. Cooper," "Shipwrecked," "Crank 2," "Don't Mess with Zohan," "Stop Loss," "Swing Vote," "Taking Chance" and many others as well as many TV Shows.

On Friday, July 21st, Lee Greenwood brings his chart-topping music to the Downs. His hit song, "God Bless the USA" has been voted the most recognizable patriotic song in America. Greenwood has won numerous industry awards including, Male Vocalist of the Year for the Academy of Country Music in 1983, two Male Vocalist of the Year awards from the Country Music Association, 1983 and 1984 and a Grammy for Top Male Vocal Performance in 1985 for "I.O.U." With seven number-one songs and 25 charted singles, his hits include "It Turns Me Inside Out," "Ring on Her Finger Time on Her Hands," "She's Lyin'," "I don't Mind the Thorns if You're the Rose," and "Dixie Road."

Tickets for all six concerts are available at www.BataviaConcerts.com and sales began at 10 a.m. today (April 21). Individual tickets to each concert are $10 for General Admission while VIP tickets are $25. Tickets can also be purchased in-person at Batavia Downs Gaming & Hotel at their "Made in America" store located in the lobby.

"We are very proud to offer our loyal patrons and the people of this region an amazing lineup of music legends that are sure to electrify Batavia Downs with their hits from today and yesterday," said Ryan Hasenauer, director of Marketing at Batavia Downs Gaming. "The fact that we are able to keep General Admission ticket prices at just $10 ensures that local music fans aren't priced out of seeing their favorite artists."

Hotel room/ticket packages will be available for each concert. Each concert ticket is also redeemable once at Player's Club in the three days following the concert for $10 Free Play to be used on one of Batavia Downs Gaming's 800+ gaming machines. Additional information may be found at www.BataviaDownsGaming.com.