November 1, 2015 - 7:49am
Batavia overcomes Hornell's defensive scheme to walk away with 43-7 semi-final win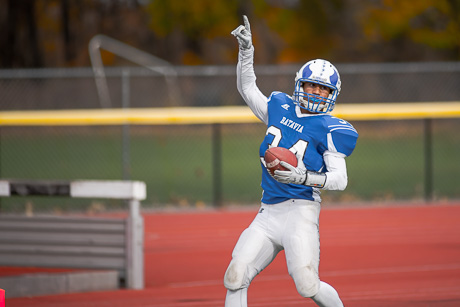 The way Greg Mruczek sees it, the challenge Hornell gave Batavia in the first quarter of Saturday's sectional semi-final for Class B gives a Blue Devils team that has faced little adversity all season long a taste of how tough advancing in the post season will get.
Mruczek and his teammates adjusted and ended up smashing the Red Raiders 43-7.
Four second-quarter touchdown passes from Mruczek sealed the deal. He hit Anthony Gallo on a 16-yard route, Ray Leach on 46 yards, Ryan Hogan on 24 yards and Malachi Chenault on 41 yards.
"We had to pick up some blitzes in that first quarter," Mruczek said. "We definately had some adversity, but we definately fought through the adversity. We definately got a feel for playing in a close game and that's definately going to happen in the finals."
In the finals, Batavia will face Livonia, and while that's a 6-3 team (compared to Batavia's 9-0 record), they scored 70 points yesterday against Penn Yan, who ran up 60 points.
The diversity of receivers Mruczek called upon for those four second-quarter TDs demonstrates the array of weapons any defense must try to counter when playing Batavia, and the ability to strike quickly from anywhere on the field gives the team a lot of confidence, said Dom Mogavero.
"We a dynamic team," Mogavero said. "Every single person on this team can play football, the twos, the threes, everyone on the depth chart can play football and we all know we're really talented atheletes.
"We stick together as a family. The only stat that matters to us is wins and losses."
Mruczek was coming off a stretch over two games where he was 19-20 passing, including a 10-10 performance last week, with his only prior missed pass a throwaway under pressure two weeks ago. Those blitzes of Hornel had Mruczek a little off balance in the first quarter and he gave up a rare interception.
Still, he went on for a 12 for 25 performance for 303 yards and four TDs.
Batavia's other two touchdowns came on runs of 56 yards by Leach and 47 yards by Caleb Burdett.
 Mogavero had 77 yards on seven carries and Ray Leach rushed for 79 yards on five carries for the Blue Devils.
Gallo caught four passes for 126 yards.
In additional to his TD reception, Hogan had two interceptions. His steller performance came less than a week after his father's death.
"He's a gamer," Mruczek said. "He's got a lot of heart. I love that kid. He works hard every day."
Malachi Chenault said the team was there for Hogan throughout the week.
"He's a tough player," Chenault said. "We knew his situation and we just tried holding him up as much as we can and be as supportive as possible, that's all."
Defensively, Danny Williams had 10 tackles (two for loss) and Trent McGraw had eight tackles (two for loss) for the Blue Devils.
Top photo: Leach celebrates his second quater TD, which came off a tipped pass (second photo).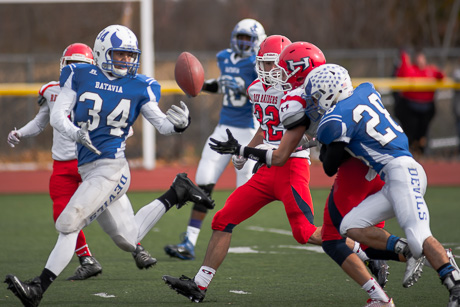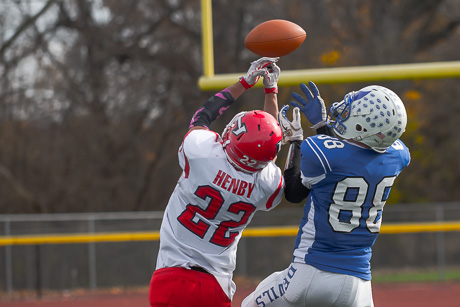 Hogan with one of this two interceptions.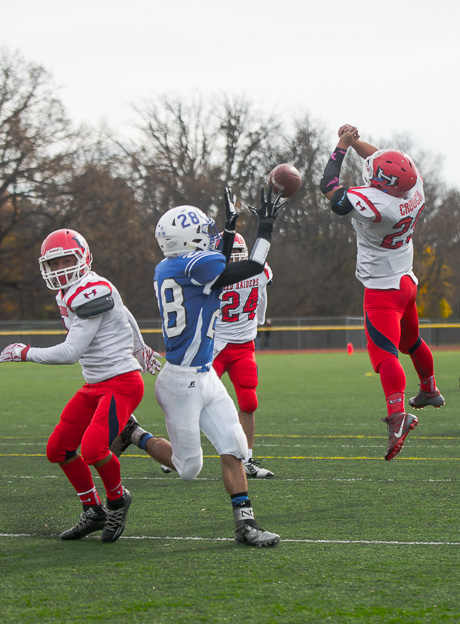 Gallo with a TD reception.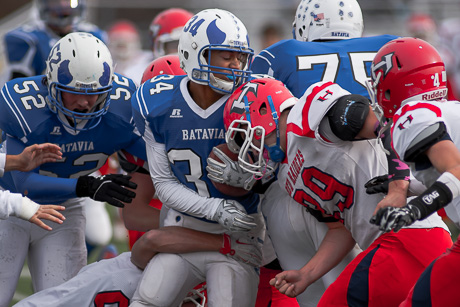 Leach on a run play.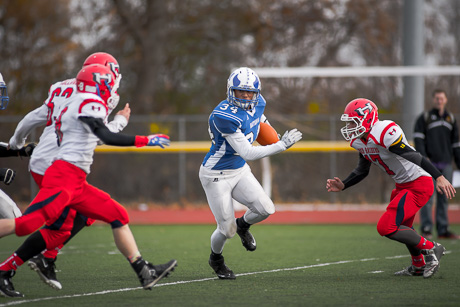 Leach.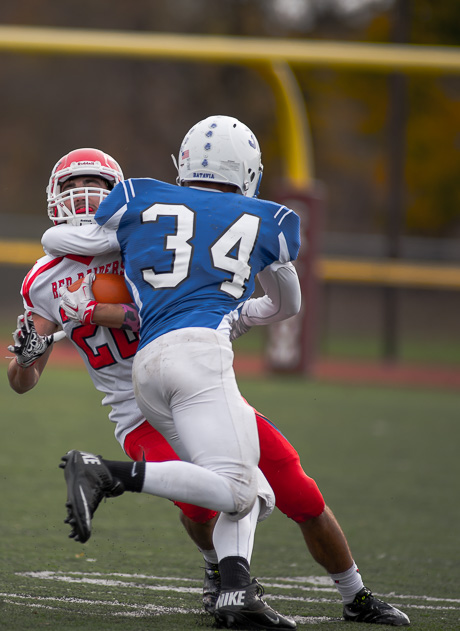 Leach on defense.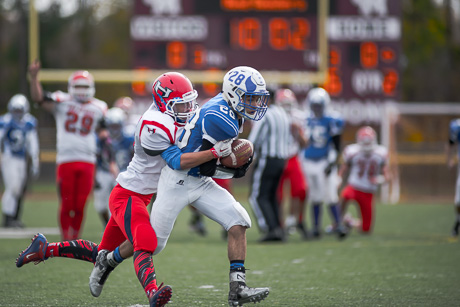 Gallo with a reception.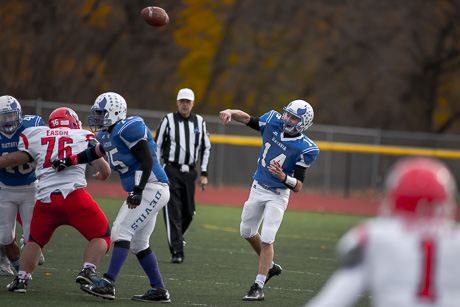 Mruczek with a second quarter pass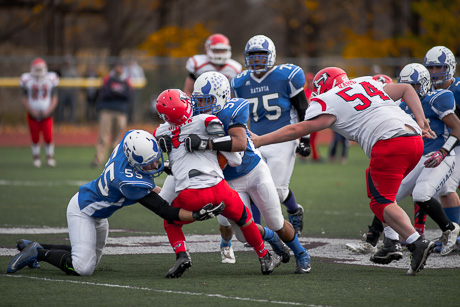 Williams buries Hornell's Trenton Smith.
To purchase prints of photos by Howard Owens, click here.
Jim Burns was also at the game and took photos: