January 20, 2016 - 2:45pm
Batavia PD looking for missing 15-year-old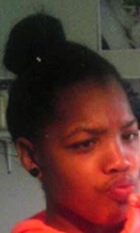 Aleesha Johnson
Batavia PD is seeking the pubic's assistance in locating Aleesha D. Johnson, 15, of Batavia, who is a missing teen and possible runaway.
She was last seen in the City of Batavia on Jan. 7.
She may be in Batavia or Rochester.
She has communicated with others via an untraceable phone number stating she is in Rochester. 
Batavia warns that anybody who knowingly impedes the return of a missing child is committing a crime. 
Batavia PD has been sharing information with Rochester PD.
Aleesha is 5'5" and 145 pounds with brown hair and brown eyes. She is African-American.
Anybody with information are asked to call Batavia PD at (585) 345-6350.
UPDATE: Aleesha was located in Rochester and is safe.