August 16, 2018 - 1:40pm
Batavia's new city manager promises openness and support for ongoing economic development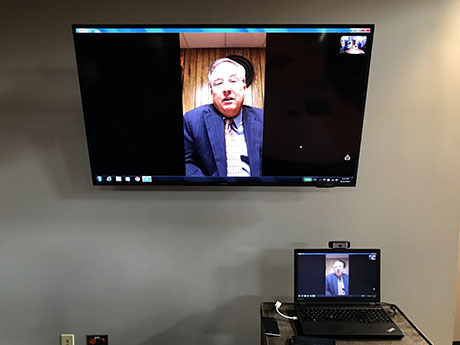 As a matter of his employment contract, the just-hired new city manager for Batavia, Marty Moore, recognizes he answers to the city council but as a matter of accountability, he works for the City of Batavia residents.
"As a city manager, I am hired to represent the people who live, work, and play in the city in particular and I am accountable to them," Moore said during a 42-minute video press conference with members of the local media.
"I don't see myself as being shielded from them. I see myself as having a responsibility. I've learned in my career that it's important to show myself as a servant of the people not this guy who sits back in the office and lets everything come to him. It's not my style."
Moore promises to get out into the community, join organizations, talk with residents and business owners and get to know them and what's on their minds.
His first goal will be to get to know his staff and the members of the council.
Overall, he thinks the city is in sound shape financially and plans to support and champion the ongoing economic development projects, particularly the Downtown Revitalization Initiative.
The progress Batavia has shown, in fact, is what attracted Moore to the job.
"I really did a lot of research into all of the places I applied and Batavia really impressed me with things like revitalization and bringing new businesses in, the financial structures that are set up, the good things that your previous people at the city have done, has created, I think, a good atmosphere," Moore said.
"It's a really progressive, want-to-move-forward, can-do, all-in type of attitude and that's the type of attitude that I have. It just really felt good. It felt right."
Moore and his wife, Joanne, just celebrated their 33rd wedding anniversary. She's from Buffalo and grew up in Tonawanda and still has brothers and sisters in the area. They met while Joanne's father had a job in Hawaii and Moore was studying there at the Brigham Young University campus there. 
They have seven children and five grandchildren: Jessica, 32, has two children and lives with her family in St. John's, Mich., just six hours from Batavia; Spencer lives in the Albuquerque, N.M., area, works at Sandia National Laboratories, and has three children; Aubrey, 20, is single, working on her master's degree and lives in Provo, Utah; Melissa, 24, lives in New Mexico and is engaged; Amanda, 23, just got married to a young man from Alaska and they live in Idaho where they're attending college; Christopher, 22, is also recently married and lives in Las Cruces, N.M., where he is going to college; and 17-year-old Martin Moore Jr. is near the end of his Eagle Scout project, and will be a senior in high school this year.
Moore says he enjoys the outdoors. He and his son have climbed 22 of the highest peaks in New Mexico and intend to climb the rest. He also enjoys fly-fishing and looks forward to trying out the creeks in Western New York.
For the past six years, he's been the voice of the Eunice Cardinals on a Eunice, N.M., radio station.
As for his view on what the city is doing right and where it can improve, from what he's observed so far, he said economic development is definitely heading in the right direction. The city's finances are in good shape. There is work to be done on infrastructure and he thinks grants can be pursued more aggressively. He's taken notice of property crime issues but believes Chief Shawn Heubusch is working to address that.
A big area for improvement, he said, is transparency.
"I sense there is the need for more of a feeling of openness and transparency with the employees and with the citizens," Moore said, adding a bit later, "I think when you don't have clear communication all kinds of rumors and feelings and challenges and difficulties arise."
One of the first things he wants to look into once he starts his job Oct. 15 is the housing situation in Batavia. He wants to better understand the housing needs of the city and whether they are being adequately addressed.
Related to crime, he said one of the first things he did when he became city manager in Eunice seven years ago was hire a new police chief. Together, they tackled the serious drug problem -- mostly methamphetamine -- they felt was growing in Eunice.
The days of drug dealers openly selling meth from their front porches are over in Eunice.
"(We) made it clear that drugs are not something that we will be known for in the City of Eunice," Moore said. "I'm not going to say it's perfect. Drug deals still do go on but the drug dealers have gone underground."
Out in the middle of the desert, water is a big issue for Eunice, but so are roads and sewer lines, just like Batavia.
The budget for Eunice is typical $8 million to $10 million but is currently more than $15 million because of some bonds for capital projects. There are 50 full-time employees, along with 22 volunteer firefighters, and 10 different department heads.
The economy cycles up and down with the flow of oil from the thousands of wells dominating the skyline.
"We probably have as many oil pump jacks as Batavia has trees," Moore said.