March 7, 2017 - 10:11am
Be on the lookout for currency manipulated by the Chinese
posted by
Howard B. Owens
in
news
.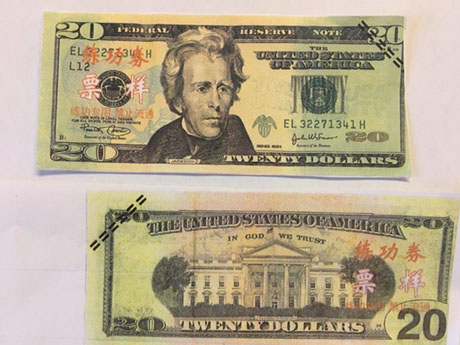 Statement from Chief Deputy Jerome Brewster, Sheriff's Office:
The attached was found in a Village of Alexander parking lot and turned over to the Sheriff's Office this morning.

The bills are not valid currency and believed to be used to train bank tellers in China. These fake bills can be found for purchase online at sites such as eBay and Amazon and are also available in various denominations. The printing is not as precise as real money and the colors are not quite right but they might pass for real at a glance.

The Sheriff's Office has not received any reports to date of this type of counterfeit bill actually being used to purchase goods and recommends that merchants and citizens be aware and examine all bills during transactions. Use of these bills may constitute a felony and the Sheriff's Office or your local police should be contacted if any are encountered.