September 28, 2017 - 3:21pm
BHS soccer teams celebrate seniors night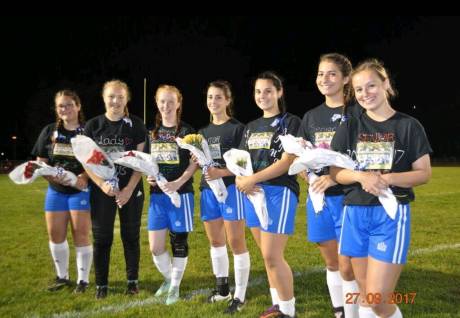 Write up and photos submitted by Carolyn DellaPenna.
Last night the Batavia Varsity girls and boys senior recognition game was held at Van Detta Stadium against Greece-Odyssey.

After double overtime, the girls game ended in a 2-2 tie with goals made by #6 Ari Brown & #13 Bri Bromley. All players stepped up their game and goalkeeper Bri Janes made multiple saves to hold Greece-Odyssey to just two goals.

Seniors Recognized included:
   #2 Rachel DeNise
   #3 Claire Zickl
   #7 Alaina Bowman
   #9 Sophie Dinehart
  #11 Brigid McCormack
   #14 Bri Janes
   # 32 Kelsey Kasmarek

Last Varsity home games at Batavia High School are Monday, Oct. 2, against Wayland-Cohocton at 5 p.m. and Thursday, Oct. 5, against Honeoye Falls-Lima at 4:30 p.m.

The boys won 1-0 with a goal made by Andrés Mateos in the 18th minute of the game. Nathan Hamilton had four shots on goal. Due to a strong defense by seniors Brandon Bradley, Stephen Gilebarto, Kyler Preston, and Jake Stokes, Greece-Odyssey was held to no goals. This is the second shutout for goalkeeper Jake Stokes.

Seniors recognized included:
  #1 Jake Stokes
  #4 Nathan Hamilton
  #7 Brandon Bradley
  #8 Cameron Hardy
  #9 Gordie Montgomery
  #11 Peter Fallon
  #12 Andrew Freeman
  #13 Julio Vazquez
  #14 Charlie Beaver
  #17 Kyler Preston
  #20 Stephen Gilebarto

Last Varsity home game at Batavia High School is Friday, Oct. 13, against Pembroke at 4:30 p.m.