January 21, 2016 - 2:22pm
Byron-Bergen announces geography bee results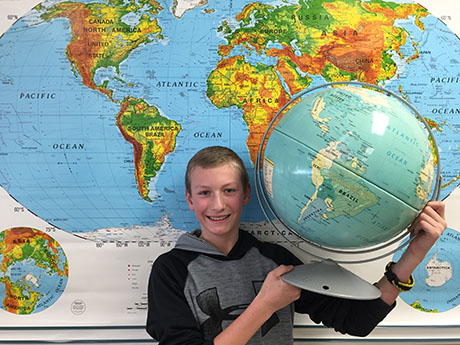 Press release:
This year's National Geographic Society Geography Bees for grades seven and eight, and grades four through six were held earlier this month at the Byron-Bergen Junior High and Elementary schools. All of the participants qualified after earning high scores on written tests taken in December.

At the Junior High, the top student performers were — Grade eight: Caitlin Ashton, Siomara Caballero, Alex Dean, Kyle Foeller, Sara Fraser, Coltin Henry, Connor Kaminski, Cambria Kinkelaar, Garrett Swinter, Justice Towne, Hannah VanSkiver, Abby Vurraro, and Grant Williams. Grade seven: Nick Baubie, Ricky Denson, Josh Fleming, Colby Leggo, John Mercovich, Isaiah Merrell, Zechariah Merrell, Andrew Parnapy, Deacon Smith, and Josh Swapceinski.

The very smartest Bees on this side of the globe were students Ricky Denson and Alex Dean, who competed in the event's Championship Round. Denson was able to answer all three final questions correctly and was declared the Junior High School Geography Bee Champion. He was awarded a $25 Amazon.com gift card. As the runner-up, Dean received a $15 Amazon.com gift card.

The next step for Denson will be a written test. If his score is one of the 100 highest in the state, he will be invited to take part in the New York State Bee. State winners compete in the National Geography Bee in Washington, D.C., hosted by Alex Trebek from the "Jeopardy" TV show.

At the Elementary School, there were also many outstanding competitors: Jared Barnum, Dayanara Caballero, Cameron Carlson, Caris Carlson, Braedyn Chambry, Sadie Cook, Evan Cuba, Gianni Ferrara, Emily Henry, Frank Hersom, Grace Huhn, Brooke Jarkiewicz, Ryan Muscarella, Stephanie Onderdonk, Madelynn Pimm, Elizabeth Piper, Carter Prinzi, Elli Schelemanow, Grace Shepard, Ella VanValkenburg, Alexandra Vurraro, Dawson Young, Corden Zimmerman, and Nicholas Zwerka.

The new 2016 Champion Corden Zimmerman, a sixth-grader, will also be taking a written exam in hopes of qualifying for the state competition. Fifth-grader Cameron Carlson was the runner-up.

District teachers and counselors also played a part in the success of the events. At the Elementary School: Judges Craig Schroth, Erin Varley, and Liz Findlay; moderator Rick Merritt; and Bee Coordinator Ken Rogoyski. At the Jr. High School: Judges Rob Kaercher, Matt Walther, and Bryan Kavanaugh; moderator Debbie Slocum; organizer Ken Gropp; and Interim Dean of Students Aaron Clark.
Top photo: Elementary School Geogrpahy Bee Champion Corden Zimmerman.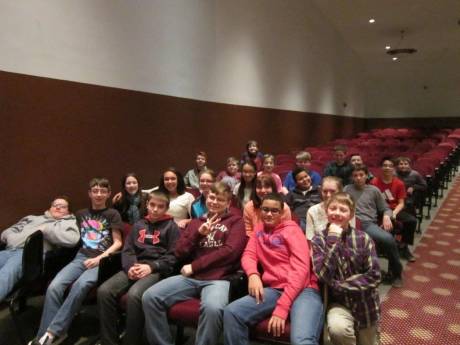 Byron-Bergen Junior High School participants in the National Geographic Society Geography Bee for grades seven and eight.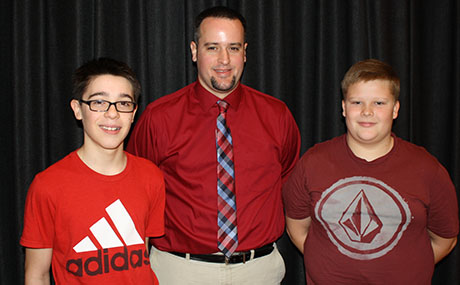 Junior High Geography Bee Champion Ricky Denson, Mr. Gropp, and runner-up Alex Dean.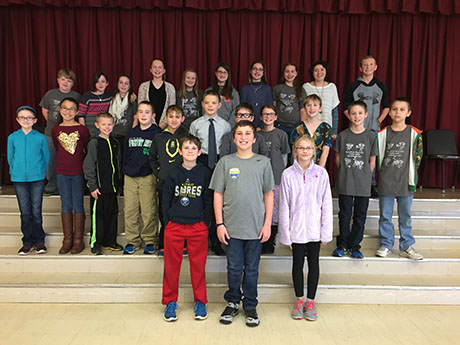 Contestants from grades four through six in the 2016 National Geographic Society Geography Bee at Byron-Bergen Elementary School.