March 11, 2016 - 7:53pm
Byron-Bergen soccer team donates more than a grand to help fight cancer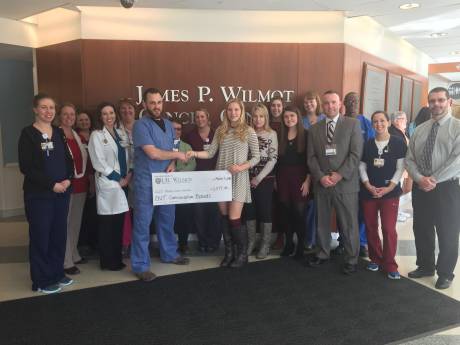 Press release:
On March 4, the James P. Wilmot Cancer Center at Strong Hospital received a check for $1,277 to help combat head and neck cancer. The money was raised by the Byron-Bergen Jr./Sr. High School's girls' soccer team. The team, led by Coach Wayne Hill, hosted a fundraising event in October. This is the second year the team has focused their efforts on head and neck cancer. Teammate Karson Richenberg's mother, Toni, has throat cancer.

Many local businesses supported the school's fundraiser, including Sloat Tire Shop in Batavia, Fullerino's Pizzeria, and NAPA Auto Parts in Bergen. They donated products and services to fill baskets that were raffled during halftime at one of the team's games.

"We are very grateful to the many individuals and businesses in the community who donated," said Jr./Sr. High School Interim Principal Patrick McGee. "We are so proud that our students are learning that they have the power to drive change in the world and give back to their community."

The Byron-Bergen girls' soccer team is no stranger to fundraising to beat cancer. Earlier years' efforts supported breast cancer awareness. The girls' soccer team plans to expand their endeavors next year by encouraging additional athletic teams to participate.
Photo: Representatives from the Byron-Bergen girls' soccer team presented a check for $1,277 to the doctors and medical team at Strong Hospital's Wilmot Cancer Center. Center, holding check, is junior Karson Richenberg. Then (l-r) Toni Richenberg, junior Olivia Audsley, senior Alex Rosse, Interim Principal Patrick McGee and (far right) Coach Wayne Hill.