May 23, 2018 - 9:59am
City Schools board recognizes outstanding achievements with monthly awards
The Board of Education for City Schools handed out their monthly awards to start last night's meeting. Below are pictures of the winners with write-ups supplied by the school district.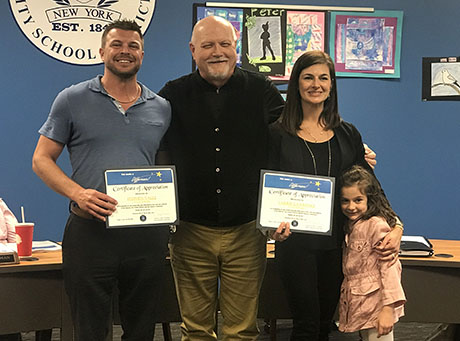 Valle Jewelers invited Mrs. Torrey's first-grade classroom to their store to further their study of gemstones and minerals in their History of the Earth Unit.

Students were able to see equipment discussed in lessons that jewelers use, find their birthstones and look at them under a microscope!

This was a hands-on way for first graders to learn and we appreciate Valle Jewelers for opening their doors to our students.  What a great experience for them! 
Photo: Stephen Valle, Pat Burk, Carrie Lawrence and her daughter, Sophia.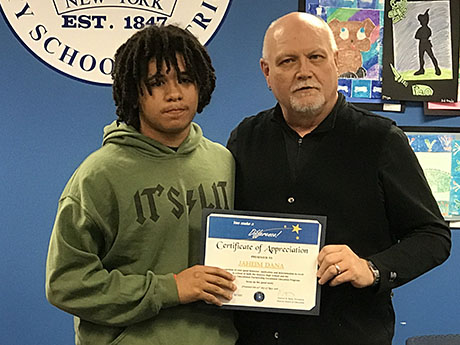 Jaheim Dana had a rocky start to his high school career and did not earn enough credits to progress to the 10th grade. He struggled academically, lacked motivation, and even talked about dropping out of high school.

When students have to repeat the ninth grade, we often see them lose their desire to graduate, and we struggle to get them back on track to graduate on time. This was not the case with Jaheim.

Over the last year, we have seen him make an incredible transformation! He has passed every class, is planning to study Auto Technology at BOCES in his senior year, and is right on track to graduate in 2019 with his class.

He plans to enter the military after graduation. Mrs. Garner is continually impressed with Jaheim's ability to shut out negative peer pressure and keep his eye on his goal of graduation.

We are so proud of his accomplishments at BHS and can't wait to see him walk the stage next June!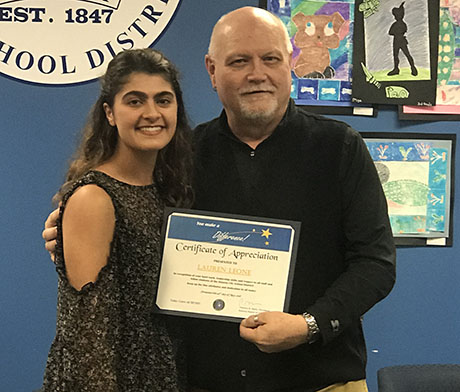 Lauren Leone is an extremely self-motivated, hard-working, and flexible graduating senior who can be depended upon to get a job done and done well.

At the beginning of this school year, she took the initiative to follow up on my invitation (given at the end of her junior year) to do some writing for the District's A+ Community Newsletter.

She then proceeded to contribute a quality article, on time, for each issue. In addition, she was flexible in what she wrote about, giving equal care to a topic she generated on her own or one that was suggested to her. Throughout the year, she could be counted on to deliver what was needed by the deadline of when it was needed.

This was no small feat for someone who was also busy with so, so many other activities and responsibilities as a class officer, athlete, volunteer extraordinaire, as well as a dedicated student taking many demanding classes, including college-level courses, all while maintaining a grade-point average that puts her at the very top of her class.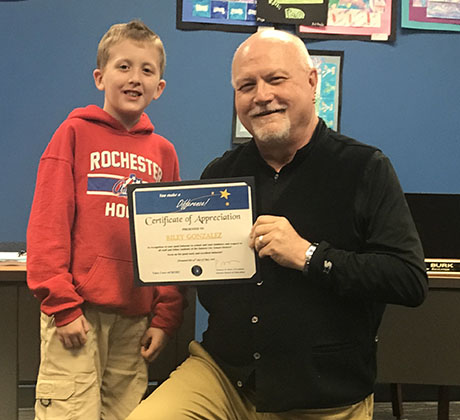 Riley Gonzalez works hard every day. He sets a great example of how other classmates should be and act.

He has been on GREEN or ABOVE every single month this year. This is over 130 days of EXCELLENT BEHAVIOR. Over 130 days of being respectful, responsible, safe and following all of the Whole Brain Teaching rules (following directions quickly, raising hand for permission to speak, participate, and leave seat, making smart choices, and making your teachers happy.)

Riley follows all of these, as well as being a polite, caring individual. We are proud to recognize his efforts.
My favorite happy story of the day is Jaheim Dana.
Good luck, Jaheim. Keep up the good work.