January 17, 2018 - 2:34pm
Corfu added to local law enforcement aid agreement so K-9 officer can respond to calls outside of village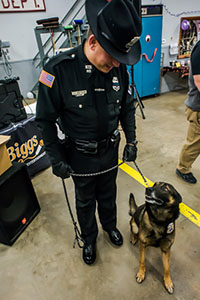 An inter-municipal agreement that allows Batavia PD and the Le Roy PD to work with the Sheriff's Office outside of city and village limits is being updated to include Corfu PD.
The impetus behind the update is the addition of a K-9 officer to the Corfu force.
Sheriff William Sheron told the Public Safety Committee yesterday that an additional K-9 officer is a good resource for the county.
Officer Anthony Bartucca joined the Corfu PD after his prior department in Lyons was disbanded when the village was dissolved. He came with two dogs; one who specializes in drugs and tracking and another who specializes in explosives. Because he was already trained and had two dogs there was no additional cost to the Village of Corfu to hire him as another part-time officer on the force.
"(The updated agreement) is more for them to respond out in our jurisdiction than for us to respond to Corfu, since we already have jurisdiction throughout the county," Sheron told the committee.
Genesee County has become well covered by K-9s in recent years. Besides Deputy Chris Erion and "Destro" with the Sheriff's Office, DEC and State Police K-9 officers are regularly in Genesee County.
That's a great capability to have locally, Sheron said.
"In today's day and age when you're dealing with narcotic detection, tracking, explosives, you know, explosives is a very unfortunate thing these days, so I think we're not overly staffed with K-9s by any means," Sheron said.
The addition of Bartucca with "King" and "Rocco" will also help reduce response times when Erion isn't available.
"I don't want to rely on just Monroe or Erie County to bring out a K-9," Sheron said. "If we can have one local when time is critical, that's the best you can do."
January 17, 2018 - 3:51pm
#1
doh ...... don't forget they are trained to detect human trafficking too .....