July 12, 2018 - 5:51pm
Elba's mayor retires as corrections officer after 25 years with Sheriff's Office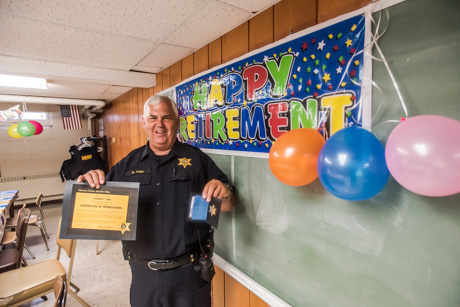 Twenty-five years ago, at age 38, Norm Itjen decided to become a corrections officer in the Genesee County Jail figuring it would be the kind of job that would offer security and help him reach retirement.
Tuesday, he proved his hunch right. He retired and was given a warm send off by his coworkers, and colleagues within the Sheriff's Office and Batavia Police Department.
A native of Elba and graduate of Elba High School, and currently the mayor of Elba, Itjen's first career was as a maintenance worker at St. Jerome's Hospital. He also had a security officer job before taking the civil service exam and getting hired at the jail.
The best part of the job, Itjen said, was the people he met.
"Through the years, I've become president of our local union, president the New York State Deputy Sheriff's Association," Itjen said. "I met people all over the state and made lots of lifetime friends."
Over the years, many people have started their employment with the Sheriff's Office at the jail and later moved onto road patrol. That wasn't part of Itjen's plan.
"At the time, I wore glasses," Itjen said. "At that time you couldn't work on the road if you wore glasses. And then my age also played a factor."
Now at retirement age, Itjen says he has plenty to keep him busy. Besides being mayor, he likes camping, golf, and he's a volunteer at his church in Morganville.
"I also have a beautiful granddaughter," he said.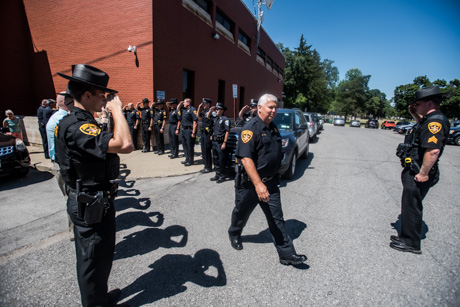 Corrections officers, Sheriff's Office command staff, several deputies and Batavia PD officers, saluted Itjen as he walked out of the Genesee County Jail for the last time.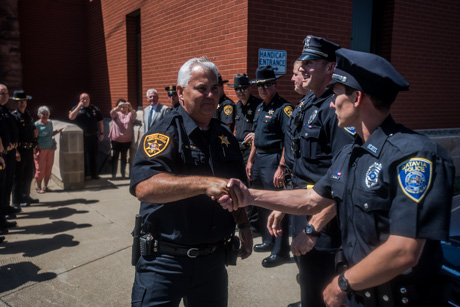 On his last day of duty, Itjen shakes hands with Officer Kyle Krtanik, working his first day of duty with Batavia PD.