July 8, 2018 - 3:52pm
Excavator pulling apart Stumblin' Inn to help firefighters reach hot spots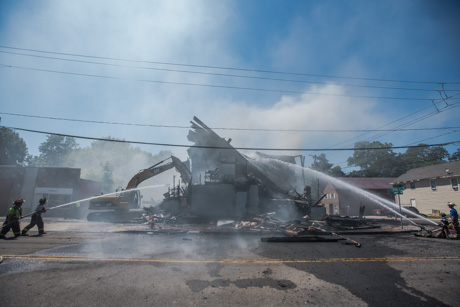 An excavator is tearing down what remains of the Stumblin' Inn in Elba this afternoon while fire crews keep the smoldering wood wet and attack hot spots that flare up as they get air.
"The building was constructed in the late 19th century, balloon construction, and there was fire throughout the building," said Jim Bouton, deputy emergency management coordinator. "The only way to successful to get to the hot spots now is with heavy equipment to haul the building apart so they can get to these hot spots in the building, otherwise we're going to leave here and there is a potential for this lighting back up and we don't want that to occur."
Bouton explained that as the fire caused the roof to collapse, it created trapped hot spots that can't be reached without pulling the wood apart, and as that happens, air hits those pockets and feeds the fire.
Crews will keep working on the fire until there's no evidence of remaining hot spots.
Meanwhile, the Village of Elba remains closed to through traffic.
The cause of the fire is officially undetermined. Investigators suspect an electrical issue.
UPDATE 4:55 p.m.: In about a half hour, all equipment will be removed from the roadway, so it can be cleaned up, the chief says.
Previously: