July 22, 2015 - 2:09pm
Family shares feelings of betrayal from theft of more than $26K items from their homes by daughter's boyfriend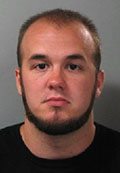 Justin Sanders
A family who took a young man into their home and treated him like a son told Judge Robert C. Noonan today about the anger and sense of betrayal they felt after he stole thousands of dollars worth of jewelry, some of the pieces family heirlooms, and other items.
The attorney for 23-year-old Justin L. Sanders tried to convince Noonan that her client deserved a chance at probation and rehabilitation.  Noonan rejected the idea out of hand.
"One of the biggest surprises of my career was the recommendation by the Probation Department that you not be sent to prison," Noonan said. "You're a con man. You got a good deal for yourself in getting an indeterminate sentence. I could not in good conscious release you on a community-based sentence."
Noonan told Sanders he would go to state prison for one and a quarter years to four years.
Before the sentence was handed down, Sanders told Noonan he regretted what he had done and through the power of salvation, he was a changed man.
Sanders has spent the past several months in a Christian-based drug-rehabilitation facility and the pastor in charge of the camp wrote Noonan a letter extolling the progress Sanders has made at the facility and asking Noonan to return him to the facility to complete his rehabilitation.
One of the victims of the thefts, the mother of the young lady Sanders was dating, said she didn't believe Sanders ever had a drug problem and that he was a compulsive liar.
She told of how Sanders wrote to her daughter from jail and promised to repay the family for the items he stole using a portion of the more than $1 million he was inheriting from his grandfather.
"You can't believe a word he says," the woman said. "We know he's just saying those things to further his own gain."
Later, when Noonan asked his attorney Lisa Kroemer if there were indeed such funds available for Sanders to pay his more than $26,000 in restitution, Kroemer said she didn't believe any such funds existed.
The initial larcenies were reported from a residence on Route 237, Byron, in late November through December; two burglaries were reported at a residence on Townline Road, Byron, on Jan. 13 and Jan. 20. 
The mother of his ex-girlfriend said to this day, they're still discovering items that are missing that she believes Sanders stole.
"A home should be a place of safety and he destroyed all that," she said.
The woman said her daughters have always been told they could only date young men of faith who were full-time students or full-time workers. Sanders, a Culinary Arts student, had food industry jobs and professed to be a Christian when he was allowed to move into the home.
She said he was accepted as part of the family and called her "Mom."
When the thefts were discovered, there was a family meeting and Sanders denied any involvement and promised to find out who stole the items. He later planted stolen jewelry in another daughter's car and tried to blame her, she said.
As the investigation progressed, he left town saying he had to visit his mother who was undergoing cancer surgery and chemotherapy. It turned out, she said, his mother wasn't sick at all.
The woman then read a letter from her daughter who wrote of Sanders, "You disgust me" and "I hate you."
July 22, 2015 - 6:25pm
#1
All criminals find salvation once they get caught. Pretend he is black and give him fifteen years.
Black 15 years
Puerto Rican 4 years
White 1. 5 years
Yes, I know. It's all in my head about racism in America. In Austin they kill you just for calling the cops for help and your dog has to die first for barking.
July 23, 2015 - 5:43am
#2
Once a con man, always a con man. A zebra does not change it's stripes.