April 26, 2017 - 11:24am
GCC's Forum Players Children's Theatre Ensemble performs 'Three Wise Monkeys' Friday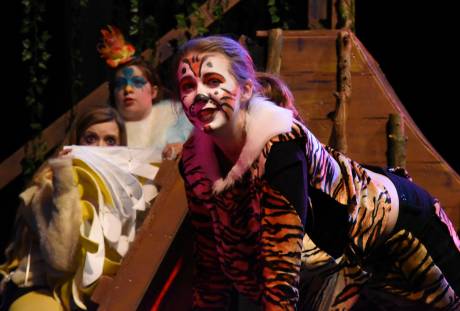 Press release:
Genesee Community College's Stuart Steiner Theatre will be transformed into the deep jungle, allowing audiences to follow three cheeky monkeys. Seeno, Hearno and Sayno journey toward wisdom as they swing through the trees without a care, learning to survive as humans encroach upon their idyllic world.

Three Wise Monkeys is presented by GCC's Forum Players Children's Theatre Ensemble and features one show only at 7 p.m. on Friday, April 28. Audiences of all ages will enjoy watching Seeno, Hearno and Sayno in their quest to find their lost baby monkey, Dono, and return him to his rightful place—all while eating bananas, of course!

Tickets are $8 for adults, and $5 for seniors (55+) and students (16+) and GCC faculty/ staff. GCC students with ID are $3, and GCC alumni with ID will receive a $2 discount on adult ticket. To reserve seats contact the GCC box office at [email protected] or (585) 345-6814.
Cast and crew:
Maryanne Arena, artistic supervising director, Le Roy
Jessica Skehan, "Dono," Holley
Taylor Renee Wilson, narrator, Cheektowaga
Mikayla Godleski, stage manager
Benjamin Martis, "Sayno," Curacao
Pedro Phellipe, "Seeno," Jundiai, Brazil
Valentine Strange, costume designer, Alden 
Becka Naber, dancer
Xochitl Rosario, dancer
Tillison Pease, sound designer, York
Emily Carey, narrator
Spencer Henley, "Hearno"/Tiger, Akron
Kaylee Koch, lighting designer, Alexander
Celeste Brownell, "Hearno"/Tiger, Batavia
Brie Cummings, backstage/projections, Bath
Gabriel Grey, backstage, Batavia
Robert Reiss, director, Batavia
Ed Hallborg, technical director
Tara Pocock, choreographer
Clare Francis, narrator, Alexander
Kandice Green, backstage
Photos by Maureen Spindler.