February 2, 2016 - 8:50am
Globetrotter visits Byron-Bergen Elementary School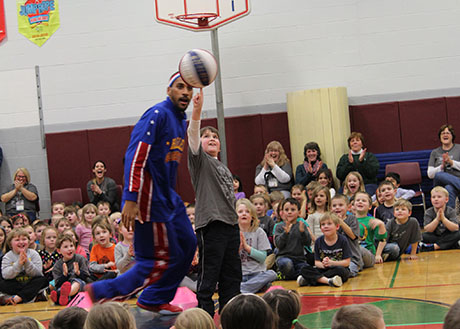 Press release:
The special student/teacher jazz quintet played the familiar theme song "Sweet Georgia Brown." As Harlem Globetrotter Zeus McClurkin entered Byron-Bergen Elementary School's packed gymnasium on Jan. 28, hundreds of excited students burst into ground-shaking applause. The basketball superstar surprised everyone, including the band members, by skillfully taking over the drums to bring the Globetrotters' song to a show-stopping finale.

"In my two years with the Harlem Globetrotters, this is the very first time I've had 'Sweet Georgia Brown' played live," said an impressed McClurkin. "I had to be part of it."

It was the first of many surprises during the visit. McClurkin visited the school to talk about CHEER™ for Character, the Globetrotters' character education program. The program targets young people and focuses on the character traits of cooperation, healthy mind and body, effort, enthusiasm and responsibility. It was a perfect tie-in to the Byron-Bergen Central School District's own emphasis on character building.

McClurkin shared a little of the Harlem Globetrotters' 90-year history and his own personal story. Perseverance finally earned him a spot on his high school basketball team, after being passed over for years. He advised his youthful fans to never give up on their dreams. He shared that people often told him that he "smiled too much" and was "just too nice to succeed." Not so, he told his audience. Now he works for an organization that is all about helping people and promoting good humor and character, and he travels around the world doing it.

Students were treated to a demonstration of classic Globetrotters' ball handling and slam dunks by McClurkin, who actually holds the Guinness World Record for most slam dunks in one minute (15!). He invited volunteers to try a few signature moves, and in the process, proved they are not easy by any means.

The Elementary School Student Council, the Byron-Bergen STEP Boosters, and teacher Ken Rogoyski arranged the Globetrotter's visit, with the support of the whole community. The band, directed by music teacher Bob Lancia, included students Angelique Heick and Corden Zimmerman, along with elementary school teacher Amber Taylor-Burns and high school teacher Kevin Bleiler. The Harlem Globetrotters will be performing at the Rochester Blue Cross Arena on Saturday, Feb. 6.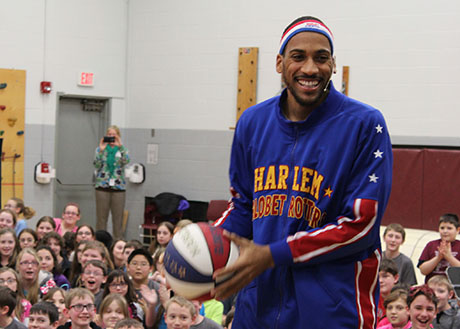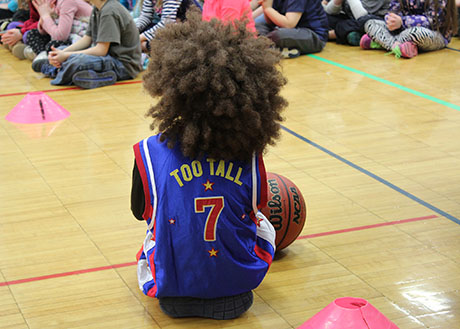 February 2, 2016 - 10:22am
#1
I miss the presence of Meadowlark Lemmon.....the clown prince of the hardwood that recently died.