March 6, 2022 - 2:39pm
High winds knocking down trees, power lines, throughout county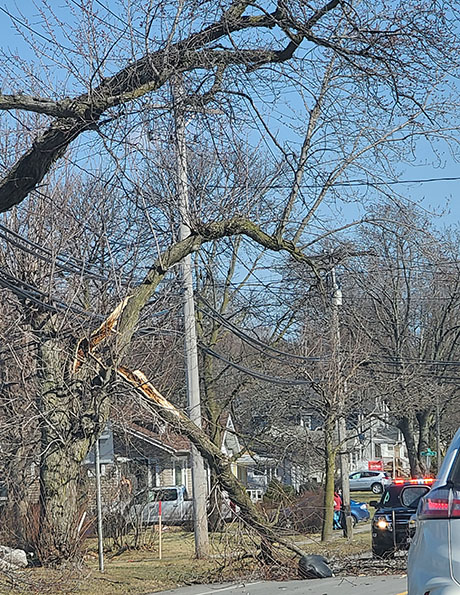 Dispatchers and first responders are dealing with multiple calls throughout the county related to wind damage, including this big branch down on Clinton Street in the City of Batavia.
There are multiple power outages reported in Genesee County, including 816 National Grid customers without power in Stafford/Byron/Bergen. The outage is centered in Byron.
There is an outage affecting 143 customers in the northern part of the Town of Elba and into Barre. There are 109 customers without power north of North Byron Road just west of Byron Holley Road.
There is an outage for 76 customers and another for 69 customers in Alexander north of Route 20.
West of Darien Center is an outage affecting 235 customers and just north of that location, one affecting 130 customers. 
Between Basom and Oakfield, 208 customers are without power. there are smaller outages northwest of Alabama.
National Grid has extra crews on duty to help handle the workload.
High winds are expected to continue until 7 p.m.
Photo submitted by Arielle McVay