October 19, 2018 - 5:54pm
Immigration judge hears testimony in asylum hearing for Abigail Hernandez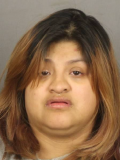 The family of Abigail Hernandez, the special-needs former East Rochester High School student accused of making a terroristic threat and now being held at the Buffalo Federal Detention Facility in Batavia, will have to wait at least two more weeks before learning whether she will be deported.
After more than three hours of motions by attorneys and testimony by Hernandez and her stepfather yesterday, the case was not completed, and Immigration Judge Steve Connelly had other items on his calendar for the afternoon, so he scheduled closing arguments for 9 a.m., Nov. 2.
Hernandez was arrested and charged last year after creating a fake Facebook account, under the name Martin Doll, and then posting a threat to shoot fellow students at East Rochester with a shotgun.
She was brought here illegally at age 3
The 21-year-old who was brought into the country without documentation when she was 3 years old was originally charged with a felony count of making a terroristic threat. She reached a plea deal in the case and her family hoped a guilty plea to a misdemeanor charge of filing a false report would save her from deportation but ICE officers were in court the day she entered her guilty plea and took her into custody with the intent to deport her.
Dressed in the blue uniform of the detention facility that designates her as a low-level offender, Hernandez, or Abi as her family calls her, told Connelly she didn't need a Spanish language interpreter to understand the proceedings. She did struggle at times to comprehend what she heard or the questions asked but not because of any language barrier. Her stepfather testified later in the morning the doctors had told the family she had the cognitive ability of an 8-year-old.
Immigration attorney Hannah Vickner Hough has filed a petition for asylum in the United States, according to her statements in court yesterday, based on her client's intellectual disability. Hough contends that Hernandez has no family in Mexico who can properly care for her, that she has no knowledge of life in Mexico, that Mexico has inadequate community-based services to see to her needs, and that Hernandez would be victimized in Mexico.
Her stepfather, Flores Moya, testified  -- in testimony often interrupted by sobbing -- that he feared Mexican gang members would turn his daughter into a prostitute or kill her if she returned to Mexico.
U.S. attorney argues asylum application should be dismissed
The government's attorney, who refused to give his name to reporters, tried to argue that the asylum application should be dismissed outright because Hernandez was time-barred from filing for asylum and that her arrest was for a serious crime.
Connelly ruled against the motion because there is no time limit on an asylum application in a case involving potential torture, and while the government can make the case that the underlying events of her guilty plea involved a serious allegation, she only admitted to a misdemeanor charge.
The hearing opened with Connelly asking Hernandez if she understood the difference between the truth and a lie. Hernandez sat silent for a long time and then said she didn't understand the question. He tried to rephrase it, and Hernandez said she didn't understand. Then he held up a pad of yellow sticky notes and said asked if she knew her colors. She did she said, and she said, "that's yellow."  
He asked her, "If I told you it was red would I be telling the truth or lying."
"Lying," she said.
Hernandez answered questions from her attorney with Connelly jumping in with questions of his own on occasion. She said she knew her grandmother brought her from Mexico to New York City when she was 3 or 4 but she didn't know how she got there.
Her family moved to Rochester when she was 7.
Both her mother and her father -- actually, stepfather -- were in the country legally and she said she had seen her mother's green card.
She didn't know if anybody had filed a petition for her to be in the country legally prior to her DACA application. She was accepted into the DACA program but her status was revoked once removal proceedings commenced.
Her grandmother returned to Mexico and lives there now, but Hernandez saw her grandmother in November 2017 in Rochester (Moya would later testify that her grandmother visited the United States on a 25-day visa in November and December of 2017).
She said she couldn't live with her grandmother because her grandmother, at 85, can't take care of her, that she can barely take care of herself. She said she doesn't know where her grandmother lives or where her aunt and uncle live in Mexico.
When asked what kind of help she might need if she lived in Mexico, she said she didn't know.
Her abilities are very limited
She has never learned to drive and has never had a bank account.
Hough asked her if she knew how to prepare meals herself. She said her mother tried to teach her to make pancakes.
Connelly asked if she knew how to make pancakes. Hernandez said she did not know how to make pancakes. Connelly asked her if she knew how to make anything. She said she did not.
"Do you know how to make eggs?"
"Yes," Hernandez said.
"What kind of eggs do you know how to make?"
Hernandez, who wore her long dark hair, with blonde streaks, in braids, tried hiding her face.
"Don't be shy," Connelly said.
"Mexican eggs."
"How do you make Mexican eggs?"
After a long silence, Hernandez said, "I don't know."
Hernandez sometimes babysits her 3-year-old sister and knows not to let her climb on the table because she might fall and hurt herself.
She's had volunteer jobs in the cafeteria at school and a local hospital washing dishes and taking out the trash but has never earned a paycheck.
After her arrest she was prescribed medicine to help her cope with her anxiety because otherwise, she throws up when she is with her attorney or in front of a judge.
The government attorney asked Hernandez several questions during cross-examination about her interaction with Rochester PD, which led to her arrest. Connelly allowed the line of questioning because the government is trying to establish that while Hernandez was convicted of only a misdemeanor, her actual crime was serious.
Though convicted on misdemeanor, crime was serious
He asked if Hernandez created a fake account by herself using the name "Martin Doll." She said she did. She didn't know why she picked that name. She also has a Facebook account under her own name. She testified she knows how to make and accept friend requests, make posts, and send messages.
She couldn't remember being asked certain questions or didn't remember certain answers in her interview with police, which related to possible statements about half the kids in school being mean to her, that she said she understood why the Parkland, Fla., shooter did what he did, and that she wanted to hurt one particular person at school.
She didn't remember telling police she wanted to cause fear among her fellow students at East Rochester.
She said she doesn't know why she wrote, "I'm coming tomorrow. I'm going to shoot all of you bitches."
She was accused of posting that comment on the Martin Doll account under a picture of East Rochester students.
When the attorney switched to questions about Hernandez obtaining her DACA status, Connelly jumped in with his own questions.
He wanted to know if she thought DACA was a good thing for her. She said it was. He asked why? She said, "so I can have a job and go to school or college." He asked if there was any other reason it was good. She said, "I don't know."
Moya, 55, then took the stand. He spoke in Spanish. The court provided an interpreter.
He said he was a legal resident of the United States for 30 years and came from the Dominican Republic. He met his wife, Abigail's mother, while working as a taxi cab driver in New York City. They lived in the Bronx and were only married eight years ago.
He is close to obtaining citizenship, he said.
Abi needs a lot of help, family fears criminals in Mexico
When he was first with his wife, he learned of Abigail's situation, both her cognitive disability and a problem with an eye that wouldn't open properly. He had seen pictures of her before he ever met her.
To help his wife, he said he paid for a "coyote" (an immigrant smuggler) to help Abigail and her grandmother cross the border illegally when Abigail was 3 years old.
He said his wife's mother, besides being elderly, has diabetes. He's not really sure how she is managing to care for herself. Her house, he said, is dilapidated and he's been sending her money to repair it. He said Abigail's uncle is an alcoholic living in Mexico City and her aunt is a single mother with four small children. He said neither could adequately care for Abigail.
He said besides school and school activities, Abigail rarely leaves the house. She likes to play video games and watch wrestling on TV.  She has friends but never socializes with them. She's afraid to leave the house on her own, even to walk to the store and get her father a soda. 
He would like her to learn to do even these little things "so she can be a normal person," he said, but that he also fears she wouldn't fair well on her own outside the house.
"She will probably never be out alone because she's not like the other girls," Moya said. "She doesn't know what the other girls know or about life on the streets like the other girls."
In Mexico, he said, things are even much worse.
"A lot of criminals turn women into prostitutes," he said. "She would allow it because she doesn't know about these things and many, many, many women are killed daily. She would not really live long in Mexico especially with the problems she has."
Hough asked Moya if he had thought of moving to Mexico if his daughter was deported. This was one of the points where he started to cry. He said he had.
It would be a difficult decision, he said.
"I have a good job with the transportation authority," he said. "I have benefits, a retirement. I own a home."
The government attorney pressed Moya on his own recent arrest. He wanted Moya to admit to an arrest for petit larceny. Moya was more interested in defending his actions.
He said he wasn't arrested but just given an appearance ticket. He said he had been in a store and took the price tag off of one doll and put it on another, not knowing there was a $1 price difference between the dolls.
"I make $500 a week," he said, "why would I steal one dollar?"
He said he did own a shotgun but that Abigail didn't have access to it. It was locked in the basement of another resident and he didn't have shotgun shells for it. He said he bought so his wife could protect herself merely by brandishing it if any bad people came to her door.
Both attorneys expect to make closing arguments Nov. 2 but Connelly left the record open in case either attorney decides in the interim to present other exhibits or call additional witnesses.
October 19, 2018 - 7:12pm
#1