August 9, 2018 - 10:22pm
In criminal indictment, Collins accused of lying to FBI about substance of conversation with his son while on phone at White House
 NOTE: In our previous coverage of the allegations of insider trading against Rep. Chris Collins, we cited a government document as a "criminal complaint." This was an oversight on our part and we subsequently corrected those stories to indicate we were referencing a civil complaint filed by the Securities and Exchange Commission. This story is based on the indictment against Collins and his co-defendants. To read the indictment yourself, click here.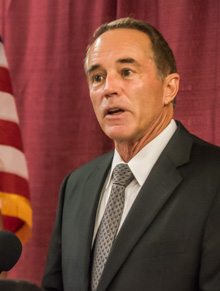 Of the 10 or so people who allegedly took part in an illegal tip tree, giving them an opportunity to dump their stock holdings in Innate Therapeutics before public disclosure that a critical medical trial had failed catastrophically, only three among the 10 face criminal charges. 
Two of the alleged conspirators -- Lauren Zarsky and Dorothy Zarsky -- have reportedly admitted to the SEC that they engaged in insider trading and have agreed to return their "ill-gotten gains."
The SEC settlement is a civil matter. Neither of the women has been charged, at least so far, with a criminal offense.
The three men at the top of the alleged tip tree, however, could go to prison, if convicted, for up to 20 years.
They are, Rep. Chris Collins, his 25-year-old son Cameron Collins, engaged to Lauren, and Lauren's father, the 66-year-old Stephen Zarsky. They are charged with conspiracy, securities fraud, wire fraud, and making false statements to FBI agents.
According to the criminal indictment, the narrative of how Chris Collins came to be accused of insider trading begins with an email he received at 6:55 p.m., June 22, 2017. Collins was at the annual Congressional Picnic on the lawn of the White House when he reportedly read a message from Innate's CEO, who is Simon Wilkinson, according to the company's website.
"I have bad news to report," Wilkinson wrote. "The top line analysis of the 'intent to treat' patient population (i.e., every subject who was successfully enrolled in the study) would pretty clearly indicate 'clinical failure.' "
He continued, "Top-line 12-month data ... show no clinically meaningful or statistically significant differences in [outcomes] between MIS416 and placebo."
The email concluded, "No doubt we will want to consider this extremely bad news."
Collins responded at 7:10 p.m., according to prosecutors, "Wow. Makes no sense. How are these results even possible???"
He is then suspected of immediately attempting to contact his son. He called Cameron twice. Cameron called back three times. Chris Collins called him back. On their seventh attempt to connect, at 7:16:19 p.m., father and son finally spoke with each other. 
Video has surfaced that shows Collins pacing on the White House lawn at 7:17 p.m. talking on his mobile phone.
Chris and Cameron spoke for six minutes and eight seconds.
The indictment alleges the congressman revealed that the MIS416 trial failed, disclosing nonpublic information, knowing it was a breach of his duties and anticipating his son would trade on the information and tip others.
When Cameron Collins allegedly learned of the clinical trial failure, the over-the-counter market in the United States was closed.
At 7:42 a.m. the next morning, Cameron Collins placed an online order to sell 16,508 shares of Innate. The order was executed at 9:30 a.m. when the OTC market opened.
As the day worn on, Cameron allegedly placed 17 more orders to sell. He's accused of placing 36 more on Monday. 
During this flurry of trading, Chris Collins and Cameron Collins spoke on the phone several times, prosecutors allege. During one five-minute conversation, while still on the phone, Cameron Collins allegedly placed an order to sell 50,000 shares.
In all, he sold 1,930,500 shares during this trading binge. In all, he sold 5.2 million shares, according to federal documents. As a result, he allegedly avoided a loss of $570,900.
In the days before the CEO learned of the clinical trial failure, the future of Innate looked much brighter after the FDA cleared Innate to open what's called an Investigational New Drug application. That clearance moved Innate one step closer to a public release of its new multiple sclerosis drug. 
The company announced the good news June 21.
A few days earlier, on June 19, Lauren Zarsky used her online brokage account for the first time ever to buy Innate stock, grabbing 40,464 shares over a two-day period. 
According to the indictment, Lauren Zarasky didn't even own Innate stock for a full week. At 9:37 a.m., June 22, after reportedly meeting with Cameron Collins at her father's house, Lauren sold her entire Innate portfolio.
Lauren Zarsky avoided losses of $19,440 with the timely sale of her stock.
Lauren Zarsky has not been charged criminally. A spokesman for the Southern District in New York of the U.S. Attorney's Office said he was not permitted to discuss whether or not Lauren Zarsky has cooperated with investigators. 
Before Cameron Collins started his alleged stock dump, he went to the home of Stephen Zarsky, the indictment alleges and met with Stephen Zarsky, Lauren Zarsky, and Dorothy Zarsky.
According to prosecutors, Cameron disclosed information about the failed trial and informed the family that he would sell his shares but give the Zarskys a chance to unload their shares first out of concern that his share dump could potentially depress the share price. The indictment doesn't reveal how investigators learned the substance of the conversation.
That night, at 9:34 p.m., before trading of Innate shares were halted in Australia, Dorothy Zarsky called her brokerage. A telephone rep walked her through the process of executing an online trade in Australia. That night, she sold 30,350 of her 50,000 shares on the ASX market. The next morning, she sold her remaining shares in the U.S. over-the-counter market. She avoided $22,600 in losses.
At 7:52 a.m., June 23, Stephen Zarsky allegedly contacted his broker and placed an order to sell his 303,005 shares at no less than 41 cents a share. That was well below the previous day's closing price of 52 cents per share. His shares sold at 9:30 a.m. for 51 cents a share. Stephen Zarsky allegedly avoided $143,900 in losses.
Cameron Collins allegedly contacted another trader the morning of June 23 who immediately sold his holdings to avoid a loss of $680.
That same morning, Stephen Zarsky allegedly contacted three other people, including his brother, who held Innate stock.
Without disclosing how investigators know the contents of Stephen Zarksy's call to his brother, the indictment says that Zarsky advised his brother to sell his stocks. Investigators say Zarsky's brother concluded, without being told, that Zarsky had insider information from the Collins family, and sold his shares, avoiding a loss of $4,200.
The indictment also recounts a text message conversation Zarsky had with his brother (image at the top of this story), discussing two other traders who were allegedly advised to sell but didn't.
Another Zarsky contact allegedly sold his shares and avoided losses of $6,700. 
During one conversation with an Innate stock owner, Stephen Zarsky reportedly told the person that Cameron Collins intended to purchase a house so he would have an excuse for the timing of his Innate trades if they ever came to light. That person Zarsky spoke with allegedly avoided $6,700 in loses.
Chris Collins is accused in Count Eleven of the indictment of lying to an FBI agent on April 25. He is accused of telling the agent that he did not pass along to Cameron Collins the confidential information before its public release that the drug trial had failed.
Cameron Collins was also interviewed by an FBI agent on April 25. He is accused of lying about his conversation with his father and lying about his knowledge of Stephen Zarsky's Innate holdings.
Stephen Zarsky is accused of lying to a special agent of the FBI on April 25 by stating that he sold his Innate stocks solely because of his concern that Innate was too risky of an investment; that the investment had been recommended by a friend in Connecticut; that he didn't know whether Cameron Collins had sold any shares, and that he did not know the drug trial results or discuss them with Cameron Collins prior to the public announcement.
August 10, 2018 - 1:12am
#1
So I guess trial by media is acceptable? I'll play devil's advocate. From the excerpt that leads your story (after the acknowledgment of your mistakes in your earlier attempts at trial by media LOL) it looks very damning for Ol' Zarsky, Collin's son Cameron, and the Zarsky daughter. Rep. Collin's and wife don't show any guilt to my minds eye other than by association. No doubt seen in a very different light if shined on from a slanted angle. I'm not going to read the indictment because even if I came away convinced of anyone's guilt IT DOESN'T MATTER!!! Or, it certainly shouldn't! Because trial by media is an abhorrent abuse of freedom of the press. Cherry picking conversation excerpts from already cherry picked conversations seems a rather shameful attempt at a trial by media from a slanted view. Let our legal system play out. Oh Look, I already (as the devil's advocate) made my own mistake in thinking that your admission to previous mistakes lead this story. See, too many opportunities for mistakes!