February 14, 2017 - 11:58am
In midst of winter, Genesee Chorale ready for 'Summer Daze'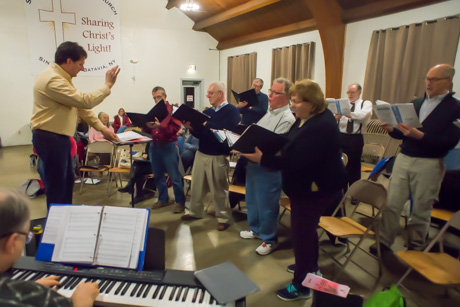 Press release:
The Genesee Chorale invites the community to "Summer Daze," a summer-themed choral performance at 4 p.m. on Sunday, Feb. 19 at St. Joseph Catholic School at 2 Summit St. in Batavia. This fun concert will depart from the Chorale's classical selections to uplift the audience and melt away the winter doldrums with an afternoon in the summer sun.
"This time of year, the long, dark winter days seem to stretch on forever," said Director Ric Jones. "We wanted to give our audience a much-needed break from the snow and cold by transporting them to a warm, sunny day through music."
The concert venue will be decorated for the theme, Chorale members will dress the part, and the Chorale will be accompanied by local musicians on percussion and ukuleles! These fun performances are audience favorites, with familiar songs and performances by the full chorale, small ensembles, and soloists.
Concertgoers will recognize many of the song selections, like the Beach Boys' "Little Deuce Coupe," Israel Kamakawiwo'ole's Hawaiian rendition of "Somewhere Over the Rainbow," Bob Marley's "One Love," and many more.
Presale tickets cost $8 and can be purchased from any Chorale member or online at www.geneseechorale.com. Tickets will also be available at the door for $10. In the event of severe winter weather, the concert will be rescheduled for the same place and time on the following Sunday, Feb. 26.
This performance is made possible with funds from the Decentralization Program, a regrant program of the New York State Council on the Arts, administered by the Genesee-Orleans Regional Arts Council.
The Genesee Chorale is a community chorus founded in 1971 with members from Genesee County and seven surrounding counties. The Chorale's repertoire includes a wide variety of music in various styles from motets and madrigals of the Renaissance, to folk, musicals and jazz. The Chorale always welcomes new singers. The Chorale is directed by Ric Jones, who is the owner of Imagine Music Publishing, the musical director of the Brighton Symphony Orchestra and The Middleport Community Choir, and is also the organist at St. Peter Evangelical Lutheran Church in Medina and Trinity Lutheran Church in Wolcottsville.