October 28, 2017 - 8:50am
Invention fair rallies support for Alexander's young inventor with a chance to win national contest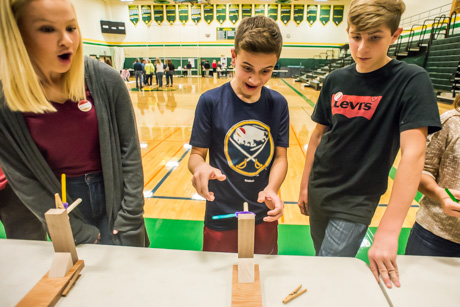 Photo: Andrew Young Jr., center, tries out one of the challenges at an Inventor's Fair at Alexander High School on Friday night as part of a rally to support Andrew's entry into Frito-Lay Dreamvention contest.
Andrew, 14, is one of five finalists in the nationwide contest. His invention is a toaster that shoots out the toast onto a plate. The winner of the contest will receive $250,000.
The fair Friday night featured various activity stations for students to try out their skills at various challenges and included a rally to encourage everybody to vote in the contest and support Andrew's quest to have his invention recognized at the best of the bunch.
To learn more about Andrew's invention, visit AndrewsInvention.com. To vote, click here (you can vote every day).
(The Batavian has added a link to the voting page on the left side of our home page, just above the login box on the left side of the page. You can vote every day.)