June 21, 2016 - 7:36pm
Landlord accused of falsely claiming to own a dwelling in Batavia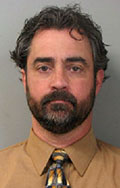 James Pontillo
James D. Pontillo, 48, of Griswold Road, Byron, is charged with offering for file a false instrument, 2nd, grand larceny, 4th, falsifying business records, 1st, and forgery, 2nd.
Pontillo, who is the recorded owner of nine pieces of property in the City of Batavia, is accused of falsely portraying himself as the owner of a multi-dwelling property in the city and of filing documents indicating he was the owner and of collecting benefits from the State of New York.
Following arraignment in City Court yesterday, Pontillo was released without bail.
Previously:
June 22, 2016 - 9:04am
#3
Then why in the article below this one was the background of Bradley J. Broadbent not included in the article. There were 10 previous articles about him yet I see none. I guess your bias is selective Howard.