December 18, 2017 - 12:44pm
Law and Order: Rochester man accused of assault and possessing .357 with serial number removed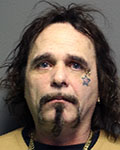 Joseph Cavico
Joseph J. Cavico Jr., 49, of Albert Street, Rochester, is charged with assault, 3rd, menacing, 2nd, willful defacement of a weapon, and criminal possession of a weapon. Cavico is accused of striking a victim numerous times and threatening the victim with a pistol and knife. During the investigation by Le Roy PD, police located a .357-caliber pistol with its serial number removed. Cavico was jailed without bail. The investigation is ongoing.
Roberta A. Goodman, 50, of East Main Road, Le Roy, is charged with driving while ability impaired by drugs. Goodman was stopped by Le Roy PD at 12:48 p.m. June 20 following a complaint. Goodman allegedly failed to maintain her lane of travel and almost struck objects. Goodman was allegedly under the influence of prescribed medication.
Kimberly White, 28, of Wyoming Road, Wyoming County, is charged with petit larceny. White and an accomplice allegedly stole $319 of Hydroxycut supplements from Walgreens in Le Roy on May 16.
Shane E. Dann, 41, of Swan Street, Batavia, was arrested on a warrant. Dann was arrested on a City Court warrant. The charges were not released. 
Sean M. Haugh, 20, of North Main Street, Warsaw, was arrested on a warrant for alleged failure to appear. Haugh was arrested at the Wyoming County Jail and transported to Batavia City Court. Haugh was released after posting bail.
Rae C. Cook, 28, of Gilbert Street, Le Roy, is charged with harassment, 2nd. Cook is accused of punching a nurse while at UMMC's emergency room.
Kiara M. McCoy, 28, of Woodward Street, Rochester, is charged with unlawful possession of marijuana, uninspected motor vehicle, and speeding. McCoy was allegedly found in possession of marijuana during a traffic stop at 10:32 p.m. Friday on Walnut Street, Batavia, by Officer James Prusak.
Nikkia Marie Phillips, 31, of East Main Street, Batavia, is charged with petit larceny. Phillips is accused of stealing merchandise from Walmart.
Anthony M. Strollo, 59, of Bethany Center Road, Bethany, is charged with trespass. Strollo allegedly walked onto property on Wortendyke Road without permission at 2:45 p.m. on Thursday.
Kevin James Weber, 47, of Judge Road, Alabama, Alabama, is charged with menacing, 2nd. Weber allegedly threatened another person with a knife at 4:10 p.m. Thursday at a location on Judge Road, Alabama. He was ordered held on no bail and a full stay away order of protection was issued.
Jacklyn Maureen Ganzhorn, 30, of Genesee Street Road, Attica, is charged with harassment, 2nd. Ganzhorn allegedly struck another person at 10 p.m. Thursday at a location on Orangegrove Drive, Batavia.
December 18, 2017 - 2:43pm
#3
They're also often a sign of artistic expression, remembrance of lost loved ones, tributes to children and other non-criminal activities.
But yeah, if you want to limit your employability and potentially make yourself a police target...face tattoos are one way of accomplishing those goals...