May 20, 2018 - 11:34am
Man accused of murder on Central Avenue arrested previously in knife attack in Batavia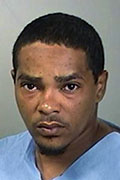 Nathaniel Wilson
If Nathaniel D. Wilson Jr. did use a knife Thursday night to kill Terry J. Toote, as police believe he did, it wasn't the first time Wilson used a knife to attack another Batavia resident, according to the man he nearly stabbed in the back 12 years ago after a scuffle behind Biggie's Sandwich Shop on East Main Street. 
Louis Kingsbury said he barely escaped serious injury because Wilson mistakenly thought he had stabbed Kingsbury so he then fled the scene.
"I don't know how I didn't get stabbed because with the (surveillance) camera, actually, it looks like he's stabbed me," Kingsbury said. "In the investigation, he told the police that he thought he had stabbed me, that's why he stopped and took off running the opposite away."
The only thing cut was Kingsbury's shirt.
Wilson eventually entered a guilty plea to attempted assault and criminal possession of a weapon. The plea deal would have kept Wilson out of prison but Wilson, Kingsbury believes, committed other crimes while awaiting sentencing and so ended up being sent to prison for several years.
He may have been released a couple of years ago but available records are incomplete. He may have been adjudicated a youthful offender, as an 18-year-old, at sentencing in 2005, which could explain the lack of records.
Wilson was arrested in the City of Batavia two years ago on a charge of criminal possession of a weapon, 3rd. He was transferred from the Genesee County Jail to state prison on a sentence of one and a half to three years in May 2016.
The incident behind Biggie's began when a tenant of motel apartments to the east of the sandwich shop ran across the street to the pet food store, where Kingsbury worked. The tenant told Kingsbury that somebody, while fighting with his girlfriend, had punched and broken the illuminated sign in front of the motel.
The pet food store and the apartments were owned at the time by Ken Mistler and Kingsbury was and still is an employee of Mistler.
Kingsbury ran over and found Wilson hiding behind Biggie's.
When he confronted him, according to Kingsbury, Wilson said, "What are you going to do about it, cracker?" He then lunged at Kingsbury.
There was a scuffle and at one point, Kingsbury had him in a headlock and then Wilson managed to break free. Kingsbury said he saw him pull out a knife.
"Thank God, it was like one of those butterfly knives, so he was kind of fidgeting with it and trying to open it," Kingsbury said. "I realized it so I was able to react when he came at me and tried to stab me. When he missed, that time I said 'I'm out of here.' "
Kingsbury ran toward the motel and he said he could feel Wilson right behind him lunging at him. After he felt the knife catch his shirt, Wilson stopped his attack and ran toward the woods to the north and through the woods toward the house where Kingsbury believes Wilson's grandmother lives to the east.
Others in the area had already called 9-1-1 and police were on the scene quickly but couldn't find Wilson. It was some days or weeks before Wilson turned himself in.
When he was sentenced, Wilson was ordered to pay $864 in restitution to Mistler for the broken sign, according to a probation letter Mistler received. Kingsbury doesn't believe full restitution was ever made.
According to police, Wilson, who has been charged with murder, stabbed Toote in the middle of Toote's chest and Toote died that night. In the fight, Wilson was shot in the leg by another person, allegedly by 17-year-old Samuel R. Blackshear. Jennifer K. Urvizu-Hanlon, 41, is accused of supplying the gun to Blackshear.
Sounds like this Wilson person is in dire need of some counseling. He has an angry soul and just wants to act out and hurt others. This poor Mr Kingsley, sounds like he had two conflicts with this person.