August 13, 2018 - 3:21pm
Manslaughter suspect in Darien nearly hit patrol vehicle at another location after alleged hit-and-run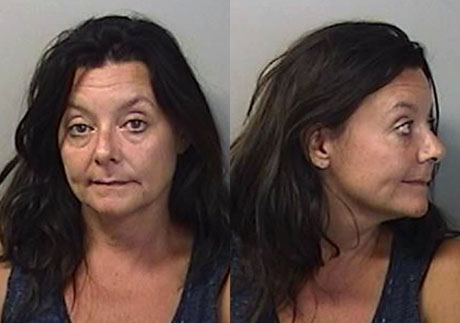 The driver in an alleged fatal hit-and-run accident on Sumner Road in Darien just after midnight Saturday was later arrested for DWI after her car nearly hit a marked Sheriff's patrol vehicle at 1 a.m. on Route 77.
It's estimated that the hit-and-run victim, 18-year-old Connor Lynskey, of Hinckley, was struck at about 12:30 a.m.
Jennifer L. Serrano, 48, of Charles Street, Irving, was identified as a suspect based on a tip received by the Sheriff's Office after news of Lynskey's death was reported.
Serrano is charged with vehicular manslaughter in the second degree and leaving the scene of a personal injury accident. She is being held on $100,000 bail or $200,000 bond.
Lynskey attended the Jason Aldean concert at Darien Lake Performing Arts Center on Friday evening with family and friends. The group was camping at Darien Lakes State Park. After the concert, some members of the group started to walk back to the state park together and at some point, Lynskey reportedly decided to run ahead and catch up with a friend.
Upon returning to the park, the group realized Lynskey had not returned to the campsite so State Park Police were contacted.
State Park Police officers and Sheriff's deputies commenced a search of the area but did not locate Lynskey. The Sheriff's office reports deputies continued to patrol the area throughout the night, keeping an eye out for Lynskey.
The next morning, members of the group reported to State Park Police that perhaps they had heard a crash on the Sumner Road, which has a couple of dips and hills along the way, while walking back to the park in the dark of the night.
At 11:51 a.m., Saturday, Deputy Richard Schildwaster found vehicle debris in the roadway on Sumner Road and upon further investigation found Lynskey's body in a ditch along the roadway.
Investigators were able to determine the type of vehicle involved based on the debris.
Following her arrest on DWI in connection with the Alleghany Road incident at 1 a.m., about 30 minutes after the estimated time Lynskey was struck on Sumner Road, Serrano was arraigned in Darien Town Court and put in Genesee County Jail in lieu of $1,000 bail. A few hours later, she posted bail.
Through information developed during the investigation, the Sheriff's Office determined that Serrano was at a relative's residence in Amherst and obtained a search warrant for her vehicle. Her vehicle was seized and she was taken into custody.