July 13, 2016 - 12:47pm
Mental health evaluation ordered for man accused of burning cat to death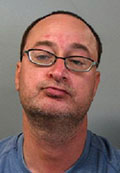 Darren Annovi
Darren Annovi, the 42-year-old resident of 400 Towers in Batavia, who is accused of placing his live cat in an oven and baking it to death, must undergo a forensic mental health evaluation, Judge Robert Balbick ruled today at Annovi's arraignment in City Court.
A key issue at the arraignment was whether to release Annovi on bail or on his own recognizance. Typically, a person with no criminal record and a high score on the bail evaluation would be a sure bet to be released without bail, and since state guidelines don't take into account the nature of the criminal charge, but Balbick was concerned about the last sentence in the bail evaluation.
He said that it indicated Annovi might a danger to the community. 
That assessment reportedly came from corrections officers at the jail and Assistant Public Defender Lisa Kroemer suggested that since they weren't trained mental health professionals, maybe that shouldn't weigh heavily in the bail hearing.
She thought an evaluation by a professional would be appropriate.
Bail is supposed to be based on the likelihood the defendant will appear for his next court date, but Balbick said he thought it reasonable to consider Annovi's mental health state since that, too, could be a factor in whether he would appear as ordered.
Annovi is charged with aggravated animal cruelty.
Bail was set at $5,000 cash or $10,000 bond.
He is scheduled to next appear in City Court at 9:30 a.m., July 21.
Previously: 400 Towers resident jailed without bail for allegedly killing his cat by burning it alive in hot oven
July 13, 2016 - 5:43pm
#2
A metal evaluation is a good idea. He appears to be smirking when he was photographed, in an annoying self satisfied and pleased what he did, manner.