March 11, 2017 - 12:40pm
National Grid making progress on repairs, but there's still a lot of people without power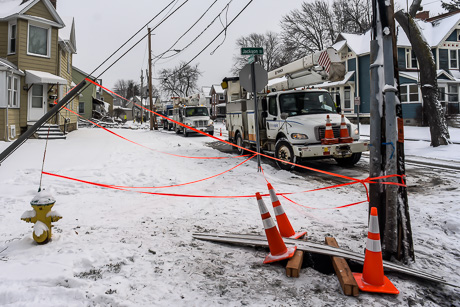 There are still nearly 1,000 National Grid customers in Genesee County without power as crews from throughout the Northeast have come to WNY to help the utility recover from Wednesday's windstorm.
There are still more than a dozen outages in the city affecting 400 customers.
Crews are on Central Avenue, above, but there is as yet no ETA for power restoration on that street. There's also no estimate yet for Morton Avenue and Redfield Parkway around Richmond Avenue as well as other city outages.
Several of the outages around the county have restoration time frames of this afternoon, but not all of them.
A National Grid supervisor said this morning that there are 300 workers in our area today. A firefighter says city fire has been notified that of the remaining customers without power today, about 90 percent of them should have power restored by midnight.
There is bottled water and dry ice available at the fire headquarters on Evans Street until 5 p.m.
There were more than 800 outages caused by the storm affecting nearly 100,000 National Grid customers in WNY.
There are currently 245 outages reported within National Grid's service area in WNY affecting 6,870 customers.