March 8, 2017 - 9:26am
Notre Dame beats rival Elba to advance to Far West Regional championship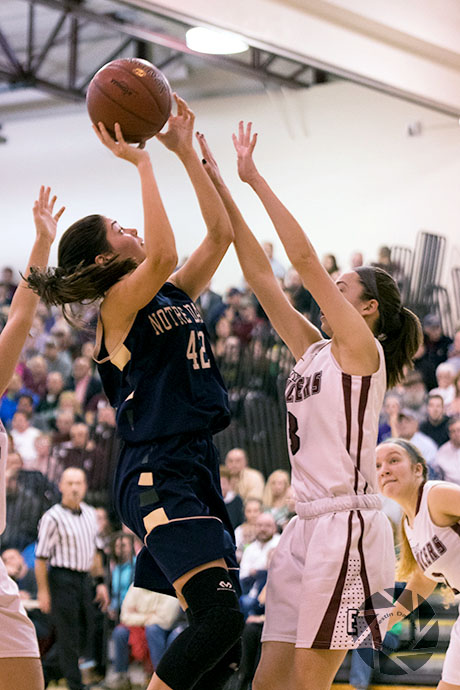 Whether through fatigue, Notre Dame's defense or just that's the way the ball bounces, a dearth of scoring in the fourth quarter last night cost the Elba Lady Lancers a chance to advance to the regional championship round of post-season basketball.
The Lady Irish prevailed in the Class D consolidation game between the two Section V champions. The final, 44-31.
Elba had a first half lead after scoring 15 points in the second quarter, going into the locker rooms up 19-18, were down by only two points, but a four-point fourth quarter for Elba enabled Notre Dame to pull away and secure the win.
Head Coach Tom Redband said his girls struggled with free throws and layups in the second half and fell out of rhythm.
"I don't think it was adjustments they made," Redband said. "We just missed free throws and some layups that normally we make and that's basketball. Sometimes they fall, some times they don't. It just kind of caught up to us."
Tom McCulley, head coach of Notre Dame, said he thought Elba trying to guard a couple of his bigger players, such as Callie McCulley and Margaret Sutherland, took a toll on Elba.
"Eventually our size and strength just wore them down to where we could get the ball to where we wanted to and make our shots down the stretch," McCulley said.
He said he was exceptionally proud of his team.
"All season long I've been telling the girls, 'we just have to do what we do,' " McCulley said. "We are going to have nights where we can't find the basket and nights where we're a little sluggish but if we stay to who we are, we just don't press and try to relax, these girls are good enough to where eventually it's going to happen for them.
"That's what you've seen in the second half of the season. We've figured out what works and doesn't work and these girls are playing phenomenally well together and it's nice to watch."
For Notre Dame, Sutherland scored 16 points, McCulley, 13, Morgan Rhodes, 9.
For Elba, Maddie Muehlig scored seven, as did Nicole Boldt. Tatum Draper scored six and Madison Howard scored five.
Notre Dame plays for the Far West Regional Championship in Class D at 3 p.m., Saturday, at Buffalo State.
Top three photos by Destin Danser. For more photos of the game and a chance to purchase game photos, click here. Bottom photo by Howard Owens.