December 20, 2017 - 4:09pm
Photo: BHS receives breathalyzers to use at school social events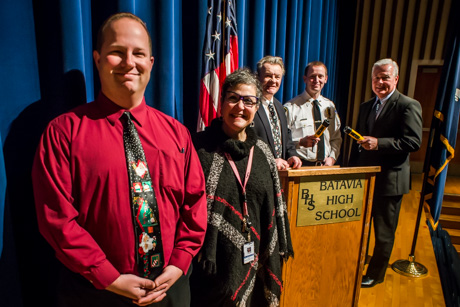 Today Batavia PD, the Sheriff's Office, and the STOP presented Batavia High School with two breathalyzers that school officials can use at school dances and similiar social functions to see if any students had a drink prior to arriving at the event.
Pictured are Matt Landers, STOP-DWI, Anita Strollo, a counselor career center coordinator at the school, Interim Principal Dennis Kenney, Chief Shawn Heubusch, and Sheriff William Sheron.
Kenney said the devices will be used to test every student entering such events, no exceptions, so everybody is treated equally. 
December 20, 2017 - 7:38pm
#3
I'm with Ed on this one........ we need to teach these kids about their Rights as Americans.. seems we are losing our Rights all the time, from the Patriot Act to the SAFE Act to Stop and Frisk to whatever is next..... No way I'd allow you to test my kids if they were still kids..
be cool if they all stuck together and told the administration to shove your social activities and dances, we won't be there.....