November 29, 2021 - 4:34pm
Possible serious injury accident reported on Route 98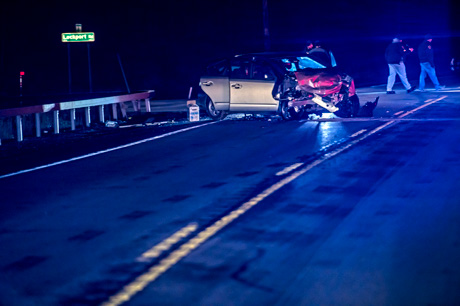 A serious injury accident, possibly involving a child, is reported at Route 98 and Lockport Road, Elba.
Elba Fire and Mercy EMS dispatched. Mercy Flight responding.
One vehicle is blocking.  Traffic on Route 98 is being shut down.
UPDATE 8:05 p.m.: A 6-year-old girl was ejected from the back passenger seat and down a steep hill into a field.  She was flown by Mercy Flight to an area hospital as a precaution and is being kept for observation, said Sgt. Andrew Hale. The vehicle she was riding was westbound on Lockport Road and allegedly failed to yield the right of way to a southbound sedan.  The first car then struck a guard rail, which apparently caused the child to be ejected. The child may not have been in a car seat. Potential charges are pending, Hale said. The sedan struck a southbound car.  Neither driver was injured and a second child in the first car was not injured.
UPDATE Tuesday, 10:46 a.m.: The investigation, according to the Sheriff's Office, indicates a 2007 Honda Civic driven by Mikayla Bard, from Brockport, was westbound on Lockport Road when it allegedly failed to stop at a stop sign. It collided in the middle of the intersection with a 2008 Toyota Prius driven by Faez Alsaddi. A passenger in the Honda was ejected from the vehicle. Alsaddi was uninjured. Bard and another passenger in the vehicle were transported by Mercy EMS to Strong Memorial Hospital with apparent minor injuries. The child passenger who was ejected was transported to Strong via Mercy Flight. Reports from the hospital back to the Sheriff's Office indicate she suffered only minor injuries.  Alcohol does not appear to be a factor.  The crash is being investigated by Chief Deputy Brian Freiday, Sergeant Andrew Hale, Investigator Kevin Forsyth, Deputy Richard Schildwaster, Deputy Travis DeMuth, Deputy Andrew Mullen, and Deputy Nicholas Chamound.  Assisting at the scene were Elba Fire, Oakfield Fire, Barree Fire, Mercy EMS, and the State Police.