October 2, 2017 - 11:47am
Sexual predator back in Batavia to stand trial on assault charges stemming from incidents in jail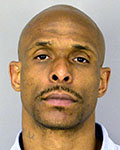 Four months after being sent to prison for 15 years, serial sexual predator Marlek Holmes is back in Batavia today for the start of a trial on a pair of second-degree assault charges.
The charges stem from incidents in the Genesee County Jail.  Holmes is accused of assaulting inmates in the jail. After the second incident in December, Holmes allegedly damaged jail property, so he also faces a criminal mischief charge.
The 43-year-old Holmes, who has already spent 14 years of his adult life in prison, was sentenced in May after agreeing to a guilty plea to attempted criminal sexual act in the first degree 
Holmes was originally charged with Class A felonies of predatory sexual assault and predatory sexual assault against a child. 
Jury selection in this new trial will begin this afternoon.
Holmes appeared in court this morning dressed in a green state prison jumpsuit and escorted by state prison guards. Judge Charles Zambito agreed to delay the start of jury selection a couple of hours to allow Holmes more time to meet with his attorney and to change into civilian clothes before the jury sees him.