December 12, 2016 - 9:52am
Shade Zajac's family provides new podium to Genesee Symphony Orchestra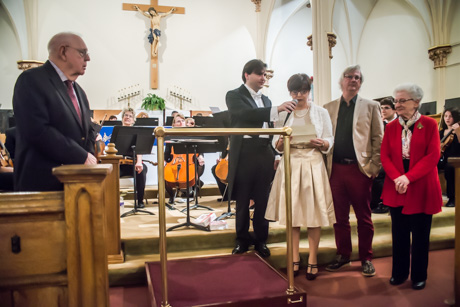 St. Mary's yesterday held a capacity audience for the annual Genesee Symphony Orchestra holiday show, which featured performances by Emily Helenbrook, of Alexander, and Young Artist Competition winner Amelia Snyder.
The family of conductor Shade Zajac also dedicated a new podium his grandfather made and donated to the GSO.
When it came time for the orchestra to play "Sleigh Bells," Zajac invited a young member of the audience to step onto the podium to conduct the orchestra. Shannon Campbell stepped forward (photo below provided by her mother).
The GSO's next concert is at 4 p.m., March 12, at Genesee Community College, and will feature pianist Brian Preston. Music will include Brahms, Concerto No. 1 in D Minor and Marquez, Danzon No. 2.