March 7, 2018 - 3:30pm
Sheriff hosts meeting to discuss school safety, placing resource officers in every district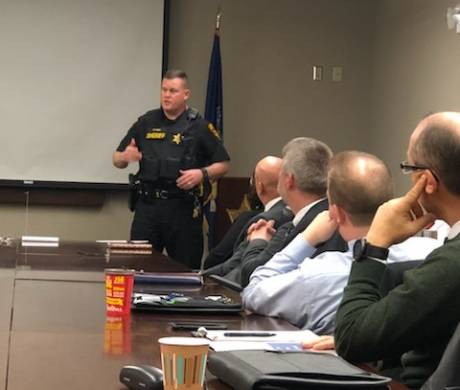 Press release:
Genesee County Sheriff William A. Sheron Jr. hosted a meeting last week with Genesee County school superintendents, local police officials, local government representatives, along with state representatives Assemblyman Steve Hawley and Senator Michael H. Ranzenhofer, to discuss school safety concerns and the viability of having School Resource officers within each school district.

"School Resource officers can play an important role in our school districts, from helping to resolve conflict to preventing tragedies," said Senator Ranzenhofer.

"I fully support placing these officers in our local school districts, and I have been working to secure state funding to expand School Resource officers in Genesee County and across New York State. I commend Sheriff Sheron for his leadership on this issue, and I will continue to work with him to keep our children safe."

While it was the consensus of most of those in attendance that there should be a School Resource Officer in each school within the county, concerns were expressed of how to fund the position and identifying the source of this funding.

The attendees discussed a variety of possible federal, state and local options and agreed to explore funding sources to offset the cost of the potential School Resource officers.

"I was pleased to meet with Sheriff Sheron, local educators and community stakeholders to discuss how we can increase school safety," said Assemblyman Hawley (R,C,I-Batavia). "The state needs to take action to help our schools become the most secure and comfortable environments they can be.

"We need to look at working with retired law enforcement and veterans in our schools because our children's safety should be our number one priority."

Currently, the Genesee County Sheriff's Office has School Resource officers at the Genesee Valley Educational Partnership's (BOCES) Batavia Campus (for the past 15 years) and in the Byron-Bergen Central School District (for the past three years).

Additionally, the Village of Le Roy Police Department provides a School Resource Officer to the Le Roy School District, and the Batavia City School District has security aides within its facilities.

During the meeting, representatives from Genesee Valley Educational Partnership's (BOCES) Batavia Campus and the Byron-Bergen School District spoke highly about the advantages of having a School Resource Officer.

They explained that it not only provides a safe environment for the students and faculty but also provides for direct interaction and guidance with the students.

Both officials agreed that the benefits of having a School Resource Officer far outweigh the expense associated with the position.

"When we started our SRO Program 15 years ago, the prevailing question was, 'Why?' " said Christopher Hayward, Le Roy Police Chief. "With everything that has happened in the last 15 years, and sadly will continue to happen, the question has to be, 'Why not?' "

Batavia Police Chief Shawn Heubusch stated, "the City Police Department remains dedicated to the safety and security of all schools within its district. The time has come for the lawmakers in this state to step up and allow school districts to utilize their aid in establishing programs that make sense on a local level.

"This type of flexibility would go a long way to allowing each district in Genesee County to partner with local law enforcement to provide a School Resource Officer."

Sheriff Sheron stated that it his goal to establish a School Resource Officer in all county schools to ensure the safety and protection of the students and faculty.

"Although the cost associated with placing a School Resource Officer in the schools is significant, I believe the safety and security of our children should be of the utmost precedence," the sheriff said.

Genesee County Sheriff's Deputies will be visiting schools on a regular basis and assist during school safety drills. This will aid in familiarizing Deputies with the school's faculty and students along with the layout and procedures of each school.
Submitted photos. Top photo, Deputy Matt Butler, resource officer for Byron-Bergen, discusses his job with officials.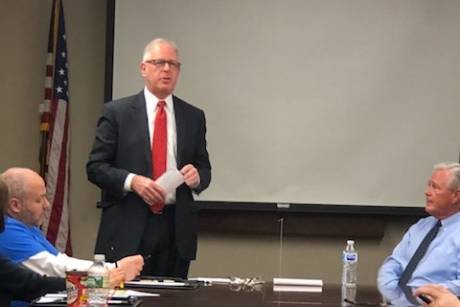 Sen. Michael Ranzenhofer, left, Sheriff William Sheron, right.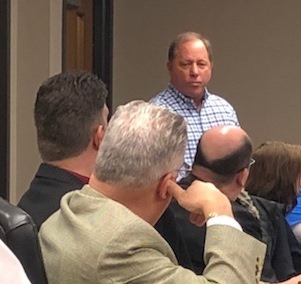 Assemblyman Steve Hawley
March 8, 2018 - 5:39pm
#5
I say that security improvements for all schools are a necessity, not optional any longer. I'm sure that there is school budget money that is being spent on non-essentials that should be re-allocated to this purpose. How much money is spent on extra-curricular activities [especially those that are selective and not all students can qualify and participate in]? Perhaps it's time for the parents of children in these activities to start sponsoring and paying for the costs associated. Not every student can play Basketball, but every student deserves to be protected. How much money is spent on electricity just to light the outdoor playing field for a Friday night game, that used to be played on Saturday afternoons [before we had enough money to spend on lights]?
I'm pretty sure that there is a large contingent of qualified, experienced veterans and former or off-duty law enforcement who would welcome an opportunity to provide security for our kids. And likely at a much lesser rate than what in service LEOs would cost.
I strongly implore the parties responsible to do something [more than dialog] and do something ASAP. Even if a contingency program to start. Actually I can't believe it has taken this long. Common sense and a touch of hindsight screams why wasn't this done after Columbine, 19 years ago? Since then, there have been 11 school shootings where 4 or more were killed, and a total of 139 fatalities. How many of those were preventable if society hadn't dragged it feet?
After 9/11 airlines installed security doors on the cockpits, pilots were allowed to be armed, random flights have armed air marshals, and entering the boarding areas requires extensive screening. Why haven't our schools had similar upgrades?
I personally feel that one armed security person will often not be sufficient... at least for some larger campuses, or multi building schools. I also strongly support that armed teachers and staff should be in the mix. Not all, but just those who are comfortable with it, and willing to undergo mandatory training and regular shooting/gun handling certifications, the same as law enforcement officers do. The last school shooting in Parkland, FL there were 3 faculty members killed when they confronted the shooter. All had military training, NONE of them were armed. I'll guarantee things that day would have turned out much different if they were armed.
BTW, End the "gun free zone" insanity.