March 6, 2017 - 1:40pm
Suspect in Jackson Street shooting in December arrested in Connecticut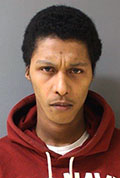 Jeremy Armstrong
A 26-year-old man wanted in connection with a shooting on Jackson Street on Dec. 2 has been located in East Hartford, Conn., and taken into custody.
Jeremy R. Armstrong is being held in Connecticut pending extradition following his arrest Feb. 28.
He is wanted on charges of second-degree attempted murder and criminal use of a firearm, 1st. 
Police say Armstrong fired several shots at close range.
He allegedly shot a person while on Jackson Street and the two men reportedly knew each other.
According to sources, the victim suffered shoulder and chest wounds. He was treated first at UMMC and then transferred to ECMC.
Armstrong was located in East Hartford outside the residence of a family member, according to police. He was taken into custody without incident.
"City detectives have been working closely with the East Hartford, Connecticut, Police Department after learning Armstrong may have been in that area," the police said in a statement.
Also assisting in the investigation and attempt to locate Armstrong were Connecticut police in South Windsor, Hartford, and New Britain, as well as the Genesee County Sheriff's Office and the New York State Police.
Batavia PD said no further information would be released since this is a pending investigation.
Individuals with information that may assist in the investigation are asked to call Det. Eric Hill (585) 345-6373, Det. Thad Mart at (585) 345- 6372, or the confidential tip line at (585) 345-6370.