November 20, 2017 - 4:34pm
Suspects in Plaza Spirits larceny may have hit another Batavia liquor store this summer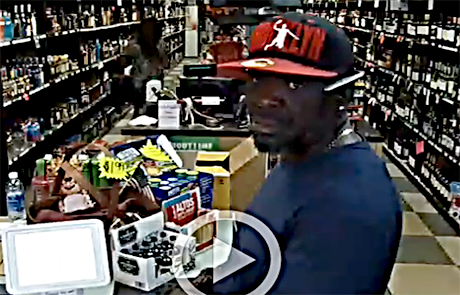 The theft of a cash box from Plaza Spirits in Eastown Plaza in Batavia last Thursday had a familiar ring to Kevin Rathod, owner of Mr. Wine and Liquor in the Tops Plaza, so he went back and reviewed his own surveillance video from a similar theft in his store this past August.
In that video, at least one of the suspects looks to be the same man suspected in photos from the Plaza Spirits heist.
According to Rathod, two men worked in tandem one afternoon in August to enable one of them to steal a casher's purse from a backroom. The thieves made off with $500 cash and a credit card. The credit card was used to run up $1,100 in charges, including purchases at another local liquor store.
Batavia PD confirmed the crime was reported in August and it's possible the larcenies are related.
At least one of the same men, using the same mode of operation, appears to have been involved in a theft from a liquor store in September in Rochester, according to this 13WHAM report. In that case, the accomplices allegedly made off with $10,000. 
The system these alleged thieves are using, Rathod said, is for one subject to distract an employee or employees while the other scouts for something to steal and then makes off with the item.
"I think local business owners should be aware of what's going on," Rathod said.
Below, video shared with The Batavian by Rathod. Note that we edited it to remove as much as possible views of an unrelated individual who walked into the store. The suspect who looks similar to the suspect in photos from Plaza Spirits is the man in the white T-shirt.
November 20, 2017 - 5:45pm
#1
is that a harmonica over his ear?
November 20, 2017 - 6:02pm
#2
sunglasses on backward, I believe.
November 21, 2017 - 6:41pm
#3
The first photo should be captioned with "Here's what you want to do, just look right straight into the security camera and you're guaranteed to get a free Thanksgiving dinner curtesy of the Genesee County court house".