May 20, 2016 - 4:34pm
Thrill seekers can now rip through new ride at Darien Lake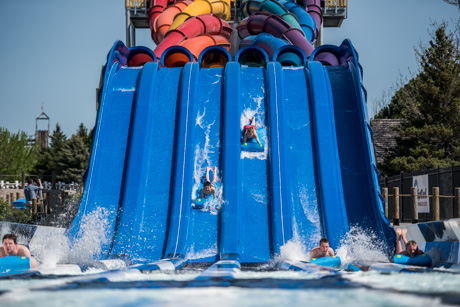 Darien Lake Theme Park unveiled its newest water ride today, RipCurl Racer, a 24-second roaring slide through curling tubs before splashing down in the pool at the bottom of the ride.
The Neid Marcucci family of Batavia was officially the first riders of RipCurl.
The ride is part of a $1.5-million capital investment in the park and was previewed today for the season.
"Bringing in RipCurl Racer, the third new thrill ride to join the park's lineup over the past year, is really exciting for us," said Chris Thorpe, general manager at Darien Lake. "The continued growth and expansion at Darien Lake is a testament to our dedication to providing guests with the best entertainment value in the region."
The growth of the state's largest seasonal employer is a continued benefit to the local economy, said GC Chamber of Commerce President Tom Turnbull.
"With the addition of RipCurl Racer, Darien Lake continues to invest in Genesee County and solidify its position as one of the top family entertainment destinations in Western New York and the entire Northeast," Turnbull said. "Not only does Darien Lake provide a premier entertainment venue, but they also are the leading provider of seasonal jobs that are vital to our local economy."