November 16, 2018 - 3:04pm
Twenty-four students complete basic exterior firefighting course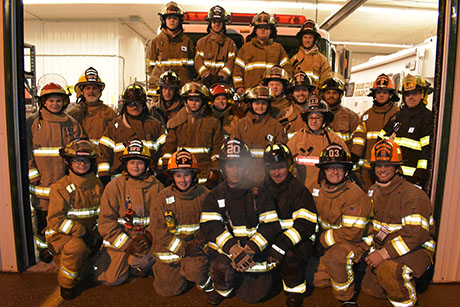 Press release:
A fall Basic Exterior Firefighter Operations (BEFO) program was held at the Genesee County Fire Training Center.  The 79-hour program began in August and concluded on Nov. 6. Twenty-four students completed the 79-hour program from nine county departments and three neighboring departments.

The BEFO program is an entry-level program for the volunteer fire service designed to prepare students to respond to emergencies as exterior firefighters.

Students are instructed in fire extinguishers, building construction, forcible entry, ladder deployment, incident command, drafting operations, and hazardous materials operations level.  In addition, students are trained in ropes and knots, and first aid/CPR.

The Genesee County participants were:

Town of Batavia -- Thomas Marlowe  

Bergen -- Brandon Cunningham

Bethany -- Rick J. Klunder III and Jose E. Torres

Corfu -- Jayden D. Eck, Casey L. Felski, Ethan J. Librock, Dylan L. Lang, Megan G. Stiler, Elizabeth S. Tebor

East Pembroke -- Samantha M. Cavalieri             

Elba -- Mark E. Anuo

Le Roy -- William M. Crandall, Adam G. Hamel and Chelsea M. Pierce

Oakfield -- Garrett M. Gibson and Noah R. Toal  

Stafford -- Megan E. Burton and Kenneth V. Collins

To find out more about volunteering in your local community, visit ReadyGenesee.com.