December 22, 2014 - 10:15pm
4-H Rustic Riders donate to Animal Shelter for Christmas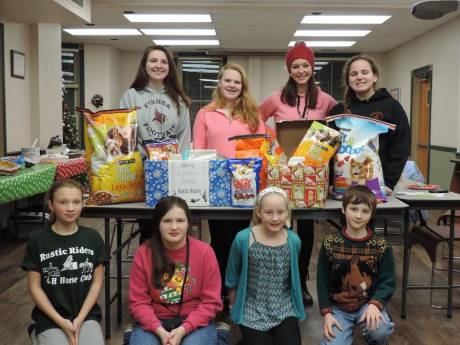 Press release:
As part of a 4-H club community service project, the 4-H Rustic Riders horse club members chose to donate much needed items to the Genesee County Animal Shelter instead of exchanging gifts at their holiday club meeting on Tuesday December 16th at Cornell Cooperative Extension of Genesee County.  Community service is a key component of our 4-H Youth Development Program, and provides a great opportunity for young people to give back to Genesee County.

The Rustic Riders horse club along with the Mystic Riders horse club also participated in holiday bell ringing for the Salvation Army on Saturday, December 13th at Tractor Supply in Batavia.

Genesee County 4-H is a program of Cornell Cooperative Extension that is an employer and educator recognized for valuing AA/EEO, Protected Veterans, and Individuals with Disabilities and provides equal program and employment opportunities.  For more information about the 4-H Youth Development Program visit: http://genesee.cce.cornell.edu/4-h-youth-development.