May 31, 2014 - 2:30pm
After fish kill in Chapin Lagoon, O-AT-KA Milk notified by DEC to improve spill prevention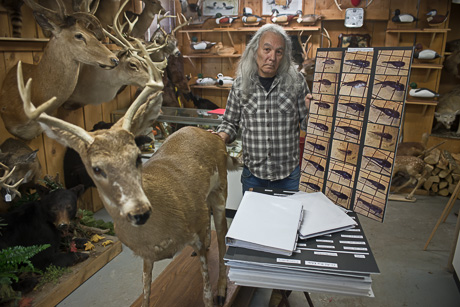 O-AT-KA Milk Products was issued a notice of violation by the DEC on April 24 for chemicals and waste materials being spilled into a lagoon south of Ellicott Street.
The company is complying with all DEC demands and requirements for dealing with spills from its dairy processing plant at the corner of Cedar and Ellicott streets, said David Crisp, director of business development for O-AT-KA.
The spills were brought to the attention of the DEC by Attica resident John Volpe (pictured above), a Native American well known locally for his environmental work.
Volpe said he's concerned about the health and well being of the fish, turtles, frogs and other wildlife in the lagoon, which is part of a 110-acre wildlife refuge owned by Chapin Manufacturing. The creatures, Volpe said, are part of the chain of life.
"This is how we look at our own life," Volpe said. "These are our teachers. All of our relations means just that. They're all of our relations. You don't leave out a worm or an eagle or whatever. We're supposed to watch it and we're supposed to protect it. That's one of our jobs as among the people who walk this earth. It should be everybody's job."
Volpe shared documents he said show serious environmental damage to the lagoon, including photos of more than 100 dead fish and dissection photos taken of dead animals -- such as turtles, frogs and fish -- showing medical issues (Volpe emphasized several times that he and his helpers never killed any animals, but merely took for samples and evidence animals they found dead).
The DEC letter accuses O-AT-KA of violating its SPDES (State Pollutant Discharge Elimination System) permit and three sections of environmental law.
The letter specifically accuses O-AT-KA of causing a drop in water quality standards for pH, solids and water color from spills on at least six separate occasions. The spills, according to the DEC, contained milk and/or cleaning solutions.
The letter also specifically cites a fish kill of various species April 15.
O-AT-KA was accused of discharging water that causes or contributes to conditions in violation of state code; discharging industrial waste in violation of state code; and discharging pollutants at a frequency or volume in excess of permitted standards.
The company was given until May 7 a turn over a document called "Best Management Practices" as well as a summary of response actions, investigations and corrective measures taken for each reported spill since August 2013. 
By yesterday, O-AT-KA was required to complete a facility review and submit a corrective action plan designed to prevent or minimize potential damage from future spills.
The DEC also required O-AT-KA to install a continuous recording pH meter.
Crisp said O-AT-KA has been fully compliant with the DEC's requirements, an assertion confirmed by Linda Vera, spokeswoman for the DEC in WNY. 
"O-AT-KA has taken a number of actions to mitigate and prevent additional discharges," Vera said.
Crisp said a DEC official was on hand one day recently when an alarm sounded from the new system indicating there was an increase in pH in the outflow line to the discharge pipe and the officials saw firsthand that plant workers responded immediately to correct the problem.
"It really comes down to how dedicated O-AT-KA is to the highest level of environmental protection," Crisp said. "That's why we're working with the DEC to assure O-AT-KA is in compliance with the SPDES permit."
There were two spills of milk, Vera said. One in August and another in October. She said steps were taken to prevent future spills and there have been no similar discharges since October.
"The remaining incidents were related to cleaning solution discharges," Vera said. "Action was taken after each incident to determine the source, and O-AT-KA added monitoring equipment and changed practices to mitigate the issue. During DEC's early May inspection, the probable source was identified. A deteriorated flooring in one of production areas allowed cleaning/disinfection solution to seep into a deteriorated pipe beneath floor. O-AT-KA is taking necessary actions to repair piping and floor."
It's still possible O-AT-KA could be fined for the spills, but the DEC has made no determination yet on further enforcement actions, Vera said.
One source we spoke to for this story suggested we look at the notice of violation delivered to O-AT-KA in context of how many DEC violation notices are handed out locally in a year, suggesting that there's nothing remarkable about a company getting a letter of violation.
According to the DEC's database of spills, there have been 76 incidents reported in the past 12 months in Genesee County. Eight of those have been tied to O-AT-KA, which more than any other source in the county. Only three of those spills -- where the size of the spill is known -- involve 100 gallons or more, and two of those involve O-AT-KA. Those are a spill of 125 gallons of milk product in August 2013 and 3,000 gallons of sodium hydroxide in January.
There were 48 incidents countywide reported in the prior 12 months, none involving O-AT-KA.
The series of spills has been a concern to Chapin, CEO Jim Campbell said, and company officials have met several times with O-AT-KA officials to review the measures taken to prevent future problems.
The 110-acre preserve includes nature trails available to employees and the area is teaming with wildlife, Campbell said. Andris Chapin, a family owner and chairman of the board, is keenly aware of environment issues, Campbell said, and once a year takes interested employees on a nature trail walk through the preserve. 
The company also has an environmental manager. He is Mark Volpe, who is also the plant manager and is John Volpe's brother.
Campbell said Chapin is confident O-AT-KA is responding appropriately. It's his understanding, he said, that O-AT-KA has spent more than $100,000 on preventative measures. He said O-AT-KA has recently brought in new executives with a good deal of technical experience in environmental issues.
"They've done a great job and have a great solution in place," Campbell said.
John and Mark Volpe started monitoring and measuring the Chapin's 110-acre habitat in 2008, acquiring and maintaining detailed records on the species and quality of life in the preserve.
It was through that process that John Volpe became increasingly concerned about spills from the O-AT-KA plant, which he said go back further than the August 2013 date covered by the DEC letter.
As he saw more and more environmental damage to the lagoon, he began raising concerns to the DEC, to the point, he believes, that some officials at the DEC started trying to avoid his phone calls.
In his workshop at his home in Attica, Volpe showed dozens of presentation boards displaying charts and tables documenting discharge dates, water temperatures, pH readings and photos of dissected animals and dead fish.
When Volpe found dead fish, he and his helpers photographed where each fish was found, collected them, brought them back to Attica, weighed and identified the species of each fish and photographed each one individually.
The dead fish included sunfish, bullhead and bass.
The DEC was slow to act on contamination issues at the lagoon, contends Volpe.
"Why didn't the DEC do this and cite them sooner so maybe these fish would still be alive?" Volpe said. "This is not the first fish kill. We've had other fish kills."
Volpe's wife caught in a net one bass near death. It was blind, had lost all its slime and was emaciated. The Volpes have nursed it back to health. It's eating again and its eyes have cleared of the haze that covered the pupils. The fish has become more active in its tank.
The blindness and loss of slime is a result of a high pH in the water as well as sodium hydroxide and hydrogen peroxide reaching the lagoon.
Volpe is also concerned about the water temperature in the lagoon, which he said was above 60 degrees in March (he takes the water temperature every day) and the turtles and frogs need the water below at least 50 degrees to hibernate.
There is also evidence of frogs "toxing out," Volpe said. The toxins in the water cause their legs to shoot straight out, become rigid and they can't jump. Eventually, they die.
Volpe was arrested in February and accused of illegal possession of protected turtles and birds of prey. 
The DEC had known for years and years about Volpe's conservation efforts involving wildlife, his friend and supporter Mike Bastine said during a meeting at Volpe's house. It was only after Volpe started making waves about O-AT-KA that the DEC decided to come down hard on Volpe.
"If you look at the implications from the spills that he has documented, that has a much greater impact on the environment than the violations they subjected him to," Bastine said. "Is the issue really about protecting the environment and the animals and the life around us? No, not really.
"They think if they can shut that part of his work down, he's going to go away and say, 'they beat me,' that he'll have to throw in the towel because he can't defend himself. They're hounding us saying we need a permit to hold a feather or care for turtles, but that's our responsibility and that's our custom. It's our job. It's our duty to step in an assist."
In her e-mail response to a series of questions, Vera did not respond to the accusation that Volpe has been targeted for enforcement because of his O-TA-KA complaints.
She said the DEC had been monitoring O-AT-KA independently of Volpe, but found his work helpful. 
"DEC's actions have been ongoing, and are not dependent on Mr. Volpe's findings," Vera said. "However, some of the discharges discovered by Mr. Volpe, have provided assistance in mitigating the discharges and investigating potential sources."
Volpe said he's also concerned because the lagoon sits over the Batavia's aquifer. All of the city's water is pumped from wells in the area. He thinks the contaminants could seep into the aquifer.
City Manager Jason Molino said that really isn't a concern. Even if any contaminants reached the aquifer, the city treats all of its water before it's distributed.
Molino's confident, he said, the DEC has things under control.
"We've spoken with O-AT-KA and the DEC," Molino said. "I think the DEC is aware of the situation and has responded to it and are in constant communication with O-AT-KA. Otherwise, it's outside our jurisdiction."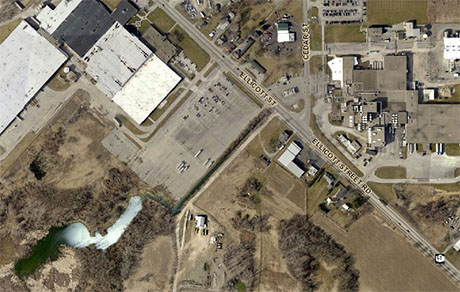 This photo is from Genesee County's GIS map. The photographs that comprise the map were taken in April 2013. The Chapin Lagoon is in the lower left. O-AT-KA's plant is in the upper right. There is a dirt road that Hanson Aggregates uses running from Ellicott Street. Beside it is a drainage ditch, which apparently is how runoff from O-AT-KA reaches the lagoon. We have no confirmation of what the milky white substance is in the lagoon, but there is no spill around that time period reported in the DEC database.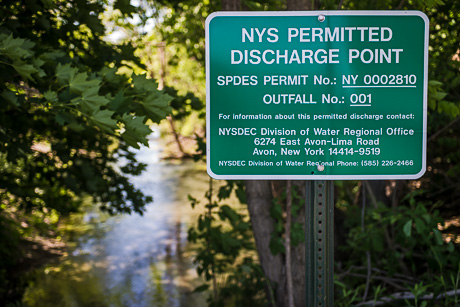 Sign by drainage pipe that runs under Ellicott Street to a stream that runs to the Chapin Lagoon.
One of the no trespassing signs marking the property line of Chapin's 110-acre wildlife refuge.
June 1, 2014 - 11:09am
#4
Excellent job on the research and presenting a complicated issue to us that don't have the time to do this research. Thanks Howard. These types of stories are important.
I hope the DEC leaves Mr. Volpe alone as well. I agree with Mr. Bastine "If you look at the implications from the spills that he has documented, that has a much greater impact on the environment than the violations they subjected him to," Bastine said. "Is the issue really about protecting the environment and the animals and the life around us? No, not really."