April 15, 2011 - 8:27pm
Alleged meth lab in South Byron may be tied to first one found in Alabama 18 months ago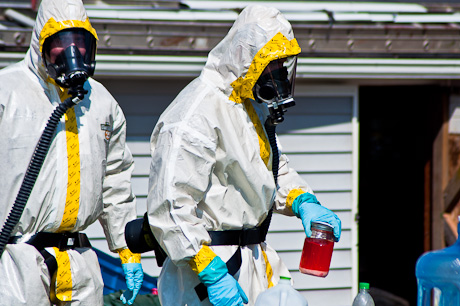 The arrest today of two South Byron residents for allegedly manufacturing methamphetamine has its roots in a Nov. 12, 2009 meth lab raid in Alabama, according to Sgt. Steve Mullen, head of the Local Drug Enforcement Task Force.
"If we're doing our jobs, a search warrant doesn't just end with that search warrant," Mullen said. "It opens doors into other investigations."
In the Alabama case -- the first suspected meth lab found in Genesee County -- Kenneth W. Mosholder and associates, including a woman who lived on Jackson Street, Batavia, were accused of manufacturing meth. Mosholder died while awaiting prosecution, but Mullen said the one-time Texas resident's recipe for making meth apparently spread throughout the county.
A handful of meth lab raids -- though not all of them -- since 2009 were based on threads connected to Mosholder's arrest, Mullen said.
"Once something like that grows in a community, it can take deep roots and take years to get out," Mullen said.
Many task force cases are built on other cases, Mullen said.
"Any single arrest looks like a snippet, but they're really scenes from the same movie," Mullen said.
Arrested in connection with the alleged meth lab in South Byron were Matthew J. Zon, 29, of Byron, and Tricia M. Tundo, 24, of Byron.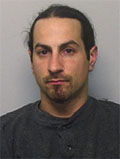 Zon and Tundo were apprehended during a traffic stop on Thursday night, but the couple wasn't discovered by accident, Mullen said. They were identified after months of investigation and observation while detectives built a case that would ultimately justify their apprehension.
Following the traffic stop, Zon and Tundo were allegedly found in possession of methamphetamine, meth lab material and drug paraphernalia.
Mullen said it's too soon in the investigation to say for certain whether Zon and Tundo were allegedly producing meth for sale. They have not yet been charged with any drug sales counts.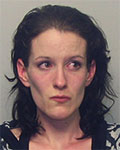 This morning, a contingent of investigators and crime lab specialists were on scene at 6319 E. Main St., South Byron, to execute a search warrant in an effort to determine whether Zon and Tundo were producing meth at their residence.
During the search, investigators carried out several items that appeared to be chemicals and implements used in the manufacture of meth. Test results on the items have not yet been released.
The search started with State Troopers in chemical-protection suits entering the house and retrieving two pet dogs, one a reportedly aggressive pit bull.
A deputy involved who helped transfer the dogs to the Animal Control vehicle said the dogs had a heavy odor of meth on them.
If Tundo and Zon were manufacturing meth in the house, the smell would permeate the entire residence, "just like burnt popcorn," said an investigator.
The odor of meth manufacturing, depending on the process used, according to sources, smells something like a mixture of burnt plastic and ammonia. 
Investigators were at the South Byron scene for hours, from before 8 a.m. until after 3 p.m. and Mullen was still at the office working on the case after 7 p.m.
And the execution of a search warrant in a drug case, said Mullen, is only a small portion of what goes into an investigation. It can take months to build a case in order to get a warrant, and the investigation doesn't stop with an arrest.
"The research and investigation really takes months," the sargeant said. "Even though we're at the end of a 12- or 13-hour day, the research began months ago."
Zon and Tundo are both charged with unlawful disposal of methamphetamine laboratory material, a felony, and criminal possession of a controlled substance as well as criminally using drug paraphernalia.
The disposal charge is based on evidence gathered during the investigation that Zon and Tundo disposed of waste material along roadways in the area.
Mullen said the production of one ounce of meth produces a significant quanity of waste chemicals. 
One law enforcement official at the scene said that was one of the parts that bugged him the most about a case like this.
He said, potentially, some Boy Scout could be out on a clean-up day and come across some contaminated materials and become gravely ill.
The traffic stop Thursday night was initiated by Deputy Brian Thompson, whose K-9 "Pharaoh" assisted in the search of the vehicle.
Tundo was reportedly driving, though she allegedly did not have a valid NYS driver's license. 
Additional charges may be pending, Mullen said, and the Drug Enforcement Agency, which was involved in the 2009 raid in Alabama, will be consulted.
Besides the Genesee County Sheriff's Office and State Police, assisting at the scene were the South Byron Fire Department, Genesee County Emergency Services, the Health Department,  Animal Control and Mercy EMS.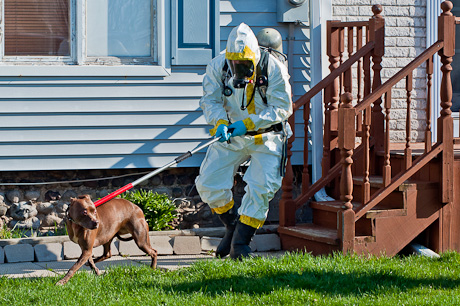 More pictures after the jump: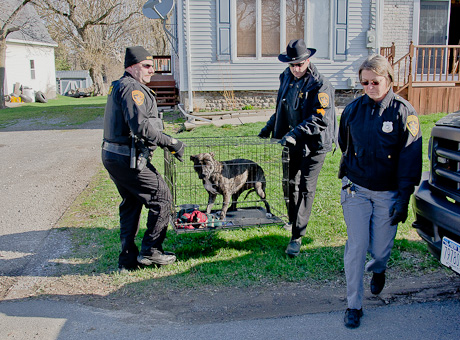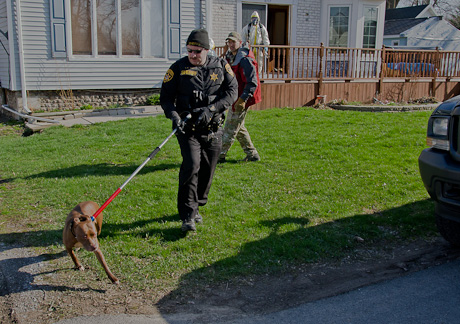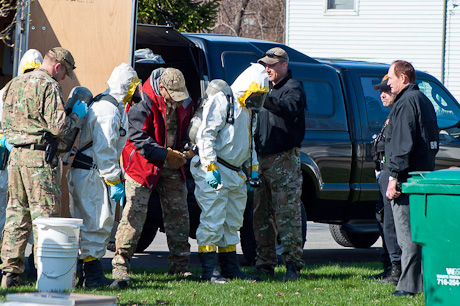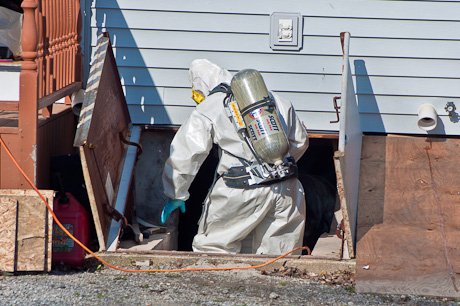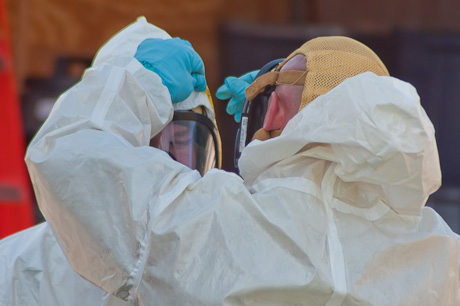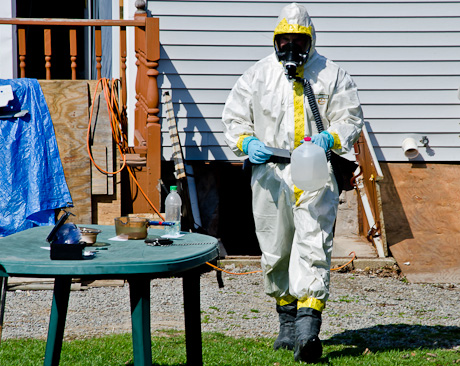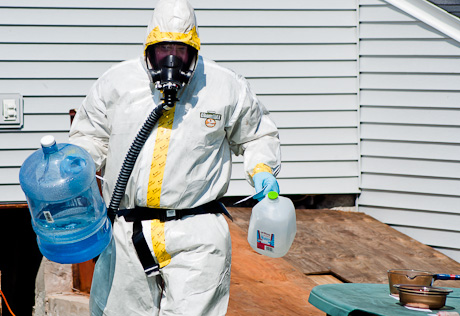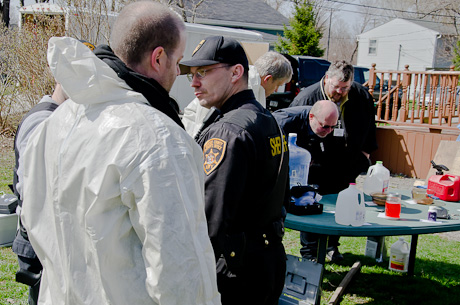 April 16, 2011 - 5:46am
#6
Meth is the one drug that stands out from the rest. The contamination can spread to a far wider area than just the dwelling where it's being manufactured. The chemicals used in the manufacturing process are often dumped wherever convenient with no regard for anyone that might become contaminated. Quote from the link below: The processing required to make methamphetamine from precursor substances is easier and more accessible than ever. There are literally thousands of recipes and information about making meth on the Internet. An investment of a few hundred dollars in over-the-counter medications and chemicals can produce thousands of dollars worth of methamphetamine. The drug can be made in a makeshift "lab" that can fit into a suit case. The average meth "cook" annually teaches ten other people how to make the drug. Quote from the link below: Ingredients used to make meth: Over-the-counter cold and asthma medications containing ephedrine or pseudoephedrine, red phosphorous, hydrochloric acid, drain cleaner, battery acid, lye, lantern fuel, and antifreeze are among the ingredients most commonly used.
http://www.kci.org/meth_info/faq_meth.htm