January 23, 2014 - 12:46pm
Alleged Sunoco robber reportedly packing an Airsoft gun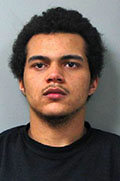 Edward Wood
The man accused of robbing the Sunoco station at West Main and Dellinger Avenue on Tuesday night reportedly told police after his arrest that he wrote out a note, put on a red hoodie and black ski mask and brandished an Airsoft gun in an attempt to obtain cash to support his daughter.
Edward Wood III, 21, of Vine Street, Batavia, is charged with robbery, 2nd, criminal possession of a weapon, 4th, petit larceny, menacing, 2nd, and criminal mischief, 4th.
In a sworn statement to police, Wood admits to the robbery and says, "I'm sorry for what I did. I would not have done this if I had money to support my daughter."
Even though Wood was allegedly carrying an Airsoft gun, the clerk in the station took the situation very seriously.
"When he walked in, he started pointing a gun at me," the clerk wrote in his statement. "It was a black handgun. It looked like a Glock to me. The gun was already drawn at me when I first saw him. ... He said, 'Give me the money, Bro. I'm not playing around.' Then he chambered a round in the gun and kept it pointed at me."
The clerk also said at one point, the robber slammed the gun down on the counter, breaking the glass.
"I was afraid he might shoot me," the clerk wrote. "I opened the cash drawer and started taking out all the bills. When I got to the singles, he said 'That's enough. That's good.' "
Wood's version of events differs slightly.
He said he borrowed the Airsoft pistol (a gas-fired pellet gun) from a friend and wrote out a note that said, "Empty the cash drawer, put the Newport cigarettes in bag."
"I told the guy at the counter to not be stupid and give me the money," Wood reportedly told investigators. "I had the Airsoft gun in my right hand. The guy froze at first. He then told me to take what I wanted, pointing at stuff around the store. I told him I did not want that. I banged the barrell of the gun on the counter and I told him I wanted money."
Wood told investigators he took the money and ran from the store, down Dellinger Avenue, discarding the sky mask and hoodie as he fled.
He said he made it to his uncle's house and started to walk up the front steps, but then changed his mind about stopping there.
As he started to continue on his way, two Batavia PD patrol cars arrived on scene.
Dispatchers reported the robbery to patrols at 9:50 p.m.. Officers James DeFreze and Jamie Givens had Wood in custody at 9:53 p.m.
Wood was jailed without bail.
Previously: Sunoco on West Main robbed, suspect already in custody
January 23, 2014 - 3:08pm
#7
Does it matter at all
The Scanner call didn't say - "Robbery occurred with BB Gun"
The officer's deputies and troopers responding had no clue it was a BB gun when the received the call
Law Enforcement swarmed at high speed, in winter weather driving conditions endangering themselves, pedestrians and other motor vehicle operators.
Young Eddie might have found himself with a 9MM whole in him, you can't tell if it is a replica from 30 feet away or a foot away under pressure for that matter.
I don't find it at all funny, and I especially do not find it to be any less of a crime
"I was afraid he might shoot me," the clerk wrote That is all that matters