September 24, 2012 - 5:44pm
Alpina officially opens new yogurt plant in Genesee Valley Agri-Business Park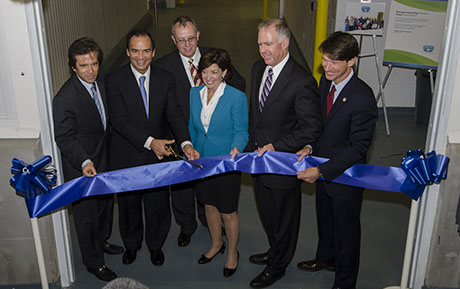 Big event in Batavia today that I wish I could have attended and covered -- the grand opening of the Alpina yogurt plant. We did assign a photographer and should have more coverage later, but meanwhile, here's the official photo and press release from Alpina:
Alpina Foods today celebrated the official Grand Opening of its first North American manufacturing facility, the latest yogurt plant to open in Upstate New York. Though the 67-year-old company has sold its broad line of dairy products in American markets for several years, the Batavia, N.Y. facility is its first plant in the U.S.     
Joined by U.S. Congresswoman Kathleen Hochul, New York State Senator Michael Ranzenhofer, and Empire State Development President and CEO Kenneth Adams, top officials from Alpina Foods and its Colombian parent company, Alpina, marked the occasion with a ceremonial ribbon cutting.
"This is a momentous day for Alpina," said Julian Jaramillo, Alpina's CEO. "We would like to recognize the many people and organizations across the state that have helped make this moment a reality. We are excited to get started and continue to grow along with our employees, the region, and the yogurt industry in New York."
The Alpina Foods plant already employs 30 new employees, and expects to hire at least 20 additional team members in the coming months. This is in addition to the 20 employees located in Alpina Foods' Miami offices and in regional positions elsewhere in the U.S.
Over the past year, with the help of co-packing partners, the company has launched several new products for U.S. consumers: Alpina Revive Greek yogurt, Alpina Restart traditional yogurt, Alpina Renew oat smoothie, Bon Yurt by Alpina low-fat vanilla yogurts, and Juan Valdez Café Latte by Alpina.
"Today's opening of Alpina Foods marks an exciting new phase of economic development in Genesee County and Western New York," said Rep. Hochul. "With the initial creation of up to 50 jobs, Alpina will significantly contribute to the economic vitality of the region. I look forward to working with Alpina, the Genesee County Economic Development Center, and local farms as we work to strengthen Western New York's economy."
"The State Legislature, working with Governor Cuomo, has made tremendous strides in improving New York State's business climate," said Senator Ranzenhofer. "Especially during the last two budget cycles, the decision to cut spending and lower taxes has signaled to many companies that New York is the right place to do business, and for many yogurt companies, such as Alpina, it has positioned Genesee County and Batavia as the 'Yogurt Capital' of the world. I applaud Alpina for opening its first U.S. facility in the Genesee Valley Agri-Business Park."
Drawn by access to the thriving agriculture and dairy industry of Upstate New York, along with a ready labor market, Alpina chose Batavia for its 10th global manufacturing facility, following locations in Colombia, Ecuador and Venezuela. The company worked closely with the State's Excelsior Jobs Program and numerous state and regional economic development organizations on the location of the 10-acre site, and was further attracted to the region after its work with nearby Cornell University and Rochester Institute of Technology.
"Under Governor Cuomo's leadership, the production of Greek yogurt has become a critical job creator and driver of economic activity in New York State," said Empire State Development President, CEO & Commissioner Kenneth Adams.  "A number of major yogurt manufacturers have taken advantage of this region's existing infrastructure, including the Genesee Valley Agri-Business Park, which is available for dairy processing, as well as its skilled workforce, proximity to milk supply and ability to reach target markets. We welcome Alpina Foods to the U.S. and are so proud that they have chosen to locate its first specialty yogurt plant in the U.S. right here in Genesee County."
All Upstate New York residents are likely to appreciate Alpina Foods' new location. The company is well known for its commitment to the communities in which it operates. With a philosophy that leadership refers to as "collective prosperity," Alpina Foods wants to transfer success beyond the company, and positively impact the surrounding community, including their employees, business partners, the environment, and others in the region.
"We are committed to our success in Batavia and the U.S.," said Alpina CEO Julian Jaramillo. "It is our corporate practice to grow with our surroundings, hand-in-hand with our neighbors."
Photo, from left: Juan Pablo Fernandez, GM, Alpina Foods; Julian Jaramillo, CEO, Alpina; Roger Parkhurst, Director of Operations, Alpina Foods; Congresswoman Kathy Hochul; state Senator Michael Ranzenhofer; Kenneth Adams, President & CEO, Empire State Development.