September 16, 2014 - 5:30pm
Amy Burns, Tender Loving Care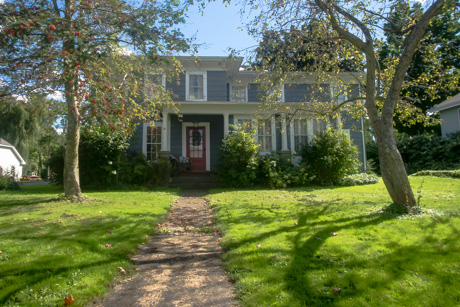 Landmark article by Tony Kutter
As far as we can determine, this stately home with Italianate features was built in 1832. It houses five bedrooms and 4 ½ bathrooms within its almost 4400 square feet.
Former owner Lucius Bigelow used house only as summer home. Later it was acquired by John and Eva McNicholl. It was passed on to their son Micheal McNicholl who became a Roman Catholic priest. Upon his retirement, it was offered to the Catholic Church in Corfu, a few houses away. They respectfully declined the offer.  Father McNicholl began restoration on the house. He passed away and members of the family continued his efforts but never completed the vast project.  Sadly, the house remained empty for several years.
Frank Pfalzer, bought the property at auction for $50,000 and completed the restoration. Frank told me he purchased the property on an impulse without his wife seeing it. When his wife looked at the property her comment was this is such a beautiful building we cannot break this up for apartments, which was Frank's original intention.        
The original siding was most likely wooden clapboards.  The current cedar shakes are well maintained.  Other updates include a new electrical system and a new roof. There was moisture damage in the basement from lack of heat as it sat empty and unheated
The major renovation Frank Pfalzer completed was the kitchen, bathrooms, floors and new carpeting. He purchased a chandelier and lamp fixtures at an antique auction. The stairway and banister are all original to the house.  There are many original windows inside and out. The original roof brackets with dentals grace the exterior.
An additional structure houses a caretaker's home with a kitchen, bedroom and bathroom which is now used for a garage and storage. In the rear of the property there remains a reflecting pool.
It is assumed that this may have been not just a private residence but a rest home for elderly people who came from the city in the early 1900's for rest and recuperation. During the war years school teachers rented rooms.
When Amy Burns purchased the home, she set out to preserve its architectural charms.   Ms. Burns has enthusiastically taken it upon herself to be the steward of this grand home.   The Landmark Society is so glad that this historic building is under her care.