March 5, 2014 - 3:19pm
Anti-Cuomo sign placed in front of Upton Monument without permission is removed by county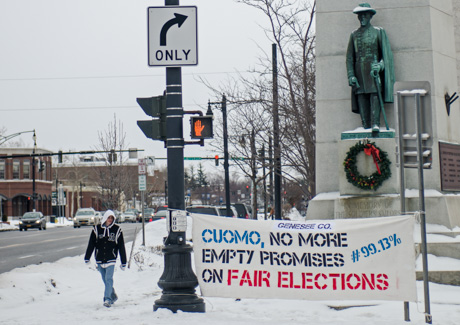 This protest sign appeared for a time today in front of the Upton Monument at Main and Ellicott streets.
It's gone now.
The City Manager's office has the sign. If the person who placed it at the intersection wants it back and can prove ownership, it will be returned, County Manager Jay Gsell said.
"There's so many things that are not appropriate about that sign," Gsell said.
Such as: It was placed without permission; permission would need to be granted by the city, state and county; the veterans consider the location hallowed ground; nobody knows who placed the sign.
(The person in the picture is just a pedestrian who happened to be in the area at the time the picture was taken.)
March 5, 2014 - 4:26pm
#2
Drove by that a couple of times earlier today. My thoughts were; "glad to see guerilla marketing is still alive and well" followed by wondering how long before a govt. agency would take it down. Appears to have had the desired effect though.