November 5, 2013 - 12:07pm
ARC's Genesee Lightning brings home the gold (and the silver and the bronze)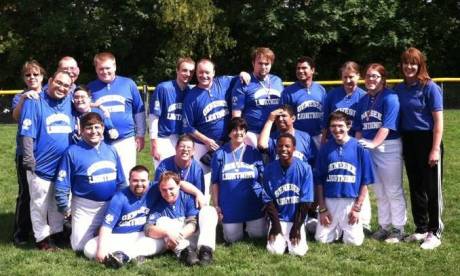 Press release:
Genesee Lightning, Genesee ARC's softball team, recently competed in the Special Olympics regionals competition in Victor and the Special Olympics Fall Classic in Pittsford.  In Victor, the team earned a bronze medal and the skills team brought home two gold, three silver and two bronze medals. At the Fall Classic, the team earned another bronze and the skills team came home with three gold and three bronze medals.
Athletes on the 2013 softball team and skills team were: James Grudzien, Erik Goodrich, Wesley Munt, Chris Jakubowski, Angie Maniaci, Juan Baez, Josh Derrick, Josh Jones, Jason Stimson, Jackie Jones, Chris Hartgrove, Josh Tiede, Shawn Bennett, Tim Markek, Jacob Klotzbach, Brandon Oun, Sara Dieck and Shannon Nigh.
Pictured with the team is Certified Coach, Reneé Potter, Genesee ARC Family Support Services manager (far right) and Team Assistant Coach Eileen Corcoran, Genesee ARC prevocational specialist (far left).
Up next are the Special Olympics winter games. As soon as weather permits Genesee ARC's Special Olympics snowshoeing team will begin practicing.
November 6, 2013 - 10:37am
#1