June 27, 2012 - 6:08pm
Attorney says there will be a trial in Christmas Eve Walmart assault case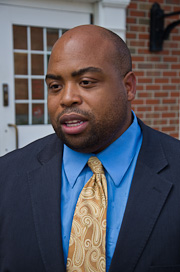 In Genesee County Court today, attorney Earl Key, representing Jacquetta Simmons, the 26-year-old Batavia resident accused of punching a 70-year-old Walmart employee on Christmas Eve, asked Judge Robert C. Noonan a series of specific questions about how juries are selected in his courtroom.
Key was there with co-counsel Ann Nichols and Simmons for a hearing on motions filed by the defense and as things were wrapping up, Key wanted to be sure he understood Noonan's ground rules.
The information will be important because outside of court after the hearing, Key told reporters, "I definitely intend to go to trial."
From the time Key was first retained to represent Simmons, he's said there's more to the case than has been reported in the media.
Asked to elaborate, especially in context of having now reviewed video surveillance tapes from Dec. 24, Key's only example of misinformation was that it's been reported that the victim, Walmart employee Grace Suozzi, was near the front door working as a greeter. She was actually working as a cashier that day.
Asked if the tape showed anything else, such as whether Souzzi grabbed the bag from Simmons, Key said, "I'll let that come out at trial."
Today's hearing was scheduled to cover a series of motions filed by Key, including a challenge to the constitutionality of a section of New York law that makes it a felony for a younger person to hit somebody over age 65.
This motion was supposed to be heard a week ago, but the Attorney General's Office was not notified of the challenge as required by law.
The AG's office has now been notified, but the letter did not include notice of today's scheduled hearing, so Noonan set another date, July 16, for the hearing.
Noonan said if history is any indication, the AG's office will not send a representative to the hearing, but rather write the court and inform Noonan that it opposes the challenge but reserves the right to appeal if Noonan finds the law unconstitutional.
This is at least the second time the law has been challenged by a defense attorney. The first time was in Queens, and that attorney lost his motion, but Key said he's raising two additional matters not addressed by the previous attorney.
While he declined to elaborate on the differences, Key said the main issue he is challenging is the vague language of the statute.
"It's vague in meaning and unclear," Key said. "It's unclear if our client had to know if the alleged victim was 65 years of age. That's the real question here."
If there is a trial, jury selection will begin Aug. 20 in county court.
The July 16 hearing will also be the last opportunity for Simmons to accept any possible or potential plea offer. If no plea agreement is reached before Simmons leaves court July 16, she will either go to trial or have to accept an unconditional plea.
June 27, 2012 - 9:03pm
#5
I have a question for Mr.Key regarding the vagueness of the law that he is questioning(a challenge to the constitutionality of a section of New York law that makes it a felony for a younger person to hit somebody over age 65).
"If Ms. Simmons knew that Mrs. Suozzi was under the age of 65, would she have held off from attacking her?"
Maybe Ms. Simmons should have asked Mrs. Suozzi her age or proof of her age so she could have made an "educated decision" as to whether or not to attack Mrs. Suozzi.