September 18, 2012 - 11:23pm
Attorney told to expect upgraded charge against Niagara Falls cop accused of fighting in Darien Lake bathroom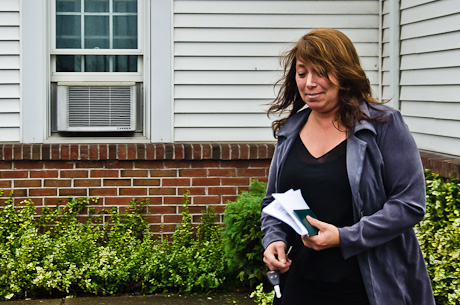 A Niagara Falls police officer accused of hitting a fellow concertgoer inside a women's room at Darien Lake Performing Arts Center on Aug. 25 could face a Class A misdemeanor charge of assault in the third degree, according to her attorney.
Attorney Norm Effman, out of Warsaw, said he was retained today to represent Kelly L. Alcorn (top photo), a 23-year veteran of the police force, who was initially arrested on a Class B misdemeanor charge of harassment, 2nd.
A woman who claims she was the victim of Alcorn has reportedly contacted the District Attorney's Office requesting more serious charges be levied against Alcorn.
Elizabeth R. Dake, 45, of Farmington, reportedly told the Buffalo News that she suffered a concussion and bruises and that she missed nine days of work as a result of the confrontation.
The fight, according to court documents, appears to have involved at least four women and may have escalated after Dake intervened on behalf of a woman Alcorn was yelling at, according to her statement, for cutting in line.
Dake reportedly told Alcorn to relax and stop yelling.
Alcorn then allegedly turned on Dake and punched her and threw her into a bathroom wall. Dake fell to the ground and Alcorn allegedly began hitting Dake while she was down.
An uninvolved witness reportedly told Deputy Lonnie Nati that Alcorn was "flailing her arms like a windmill throwing wild punches."
Another witness reported seeing Alcorn use a closed fist to allegedly strike Dake.
Also arrested that night was Karen M. Walker, 35, of Niagara Falls, on a charge of harassment, 2nd. Walker allegedly hit another patron who tried to prevent Alcorn from allegedly hitting Dake.
Effman told Darien Town Justice Gary Graber that he was informed today that a new charge of third-degree assault could be filed against his client.
Outside of court, Effman said it's his understanding the investigation is still open, which means Alcorn may yet face a felony charge.
A felony charge, such as assault ,2nd, would likely jeopardize Alcorn's law enforcement career.
Effman said both the prosecution and defense are awaiting medical reports, which will provide details on the seriousness of the alleged injuries and determine the charge to file against Alcorn.
Assault, 3rd, requires only injury to the victim and assault, 2nd, requires serious physical injury.
Today, hours prior to Alcorn's appearance in Darien, District Attorney Lawrence Friedman said no decision has been made yet on what charges Alcorn may face.
In court, while waiting for her case to be called, Alcorn sat with Walker. After her case was over, Alcorn waited for Walker's case to be heard -- Walker also pled not guilty -- and the two women left the courthouse together.
Alcorn is scheduled to reappear in Darien Town Court on Oct. 23 and Walker on Sept. 25.
Asked if there are two sides this story as there are to every story, Effman said, "There's always three sides to every story. It depends on how many people and how they view events. We don't really know what's going to happen. We haven't seen any medical evidence. We're simply at the beginning of the process. We've entered a plea of not guilty and that's our position."